Church of Wells/YMBBA Ministries
Wells, Texas
Baby's death draws attention to Wells religious group

May 30, 2012
By Francesca Washington


WELLS, TX (KTRE) -They walk up and down the streets of Wells. Bibles in hand, ready to preach a word from God.
"They run around telling everybody they are going to hell," said Samantha Shelton. "They ride their bikes all throughout the night. They're strange."

A religious group investigators believe has ties to the Church of Arlington have found an East Texas town to call home.






Residents are less than thrilled. 
"I think it's reeked some havoc on the town," said Kristy Tobure. "We've made it known as far as the town they are not welcome."

Sunday morning, investigators were called to an apartment where a three-day-old infant died. The six adults that were inside are all members of the religious group. Officials say parents, friends and church members prayed for the baby inside the apartment instead of calling the proper authorities.
"My neighbors, they said it sounded like a bunch of howling and it went on for hours," Shelton said.

"Investigators arrived on the scene and that's when we learned the child actually passed away on Saturday," said Capt. John Raffield of the Cherokee County Sheriff's Office. While the cause of death hasn't been determined, Raffield says the child did eventually go into distress. It's even unclear where the child was born.
"It was not in a hospital," Raffield said. "I don't know if it was born in the apartment or another church member's house."

William, a member of the church, says the group has been told to keep quiet about the situation. When asked about their religion, he said to look in the New Testament. Those teachings are the foundations of their beliefs, he said. On the surface, the church's website doesn't appear to be to radical compared to other Christian denominations.

Wells resident Kristy Tobure says members of the group have approached her and she finds them intimidating.
"They try to force their beliefs on the weak," she said. "They kind of talk down to you."

Up until this weekend, law enforcement has not found a reason to be concerned about this group, except for one disturbance. 
"There's been an incident where they disrupted a church service at a point a couple of months back," Raffield said. The situation was resolved before deputies arrived and no report was filed. Now residents are trying to adjust to life with neighbors and make sense of Saturday's tragedy.

Raffield said the following websites have been connected to the group:
http://www.masaogonthier.blogspot.com/
http://www.youmustbebornagain.org/

Calls to national organizers of the group for comment were not returned Wednesday.

Copyright 2012 KTRE. All rights reserved.
 
Re: Wells, Texas
​




​Baby's Death Bringing Attention to Religious Group
By Anthony Austin
​
WELLS (KYTX) - We're learning more about the East Texas parents who reportedly prayed over their dying baby instead of calling 911.
The parents of the baby girl, who they named Faith, said the baby appeared to have respiratory problems before she died.


The Cherokee County Sheriff's Office received a call Sunday around 4am. It was from the baby's father at the Wells Manor Apartments on Wright Patman Drive. Wells is a small town between Alto and Lufkin. The father of the child said his daughter had been dead since Saturday afternoon. But he and 20 more people had been praying over her body. When deputies arrived, the baby was bright red at the top of her body and dark and purple at the bottom. Deputies said the baby was in a bassinet in the corner covered with a blanket.

CBS 19 knocked at the door of the Wells Manor apartment where this all happened. No one answered. But soon neighbors were rushing to tell us about the people who lived inside. 
"They have their heads dropped, they usually have a bible or a backpack on their shoulder," said Teresa James. 
Teresa James lives near the family and said she didn't know the mother was pregnant. She could hear people inside the apartment praying over the weekend.
"For about three hours they had a constant hum coming out of the apartment. A lot of different members walking to and from the apartment and of course we didn't know what had happened," said James.
She said the family is extremely religious often knocking on their doors at all times of the day.  They would tell them they needed to be saved from the sins of this world.
"They walked in and they turned my Dad's television off. They told him they needed to talk and they don't even know my dad. I think that's really bold," added James.

The sheriff's report said at the time of the baby's death the father told investigators he had delivered his daughter by himself. He reportedly said the baby would not drink milk from the mother's breast. He fed the baby girl breast milk with a dropper. The report said when the baby started having health problems he asked members of his religious group to come and pray.

The sheriff's report said when they arrived, the people with the group would only tell them their names were "Christian."
"There were several church members. I believe they came out of the Dallas area," said Cpt. John Raffield, Cherokee County Sheriff's Office.

People in the community said something needs to be done immediately about the child's death.
"I just believe what they did was wrong cause that baby may have had a chance to live," said Kristy Toburen.
"I was angry. You just can't let things like that happen in your community and let it go unnoticed," added James.

The sheriff's office is not releasing the names of the people involved. No arrest or charges have been made at this time. Charges are possible in the future. Child Protective Services was called out to investigate, because the parents have other young children. No word if those children are in CPS custody.



More here:
http://www.cbs19.tv/story/18660945/ba?clienttype=printable
 
Re: Wells, Texas



Church group explains 15 hour prayer for deceased 3-day-old
By Francesca Washington

CHEROKEE COUNTY, TX (KLTV) -Audio from a memorial service for three-day-old Faith surfaced on the You Must Be Born Again Ministries website. The church's speaker attempts to shed light on why their group believed prayer would save the infant. Faith was only three-days-old when she passed away; after her death, she was surrounded by prayer for 15 hours.

"We weren't being foolish; we wanted God to be glorified," said  Sean Morris, YMBBA Ministries. During a memorial service for the infant, Church of Arlington member Sean Morris said faith's death was a part of God's plan.
"Concerning the place that we've sinned as elders and as a church after that child died we believed it was God's will that the child would be raised," said Morris.

Officials in Cherokee County say Faith wasn't born in a hospital.Neighbor Tamika Harrison says the family told her Faith was born healthy but with some alarming symptoms.
"They told me the baby was fine but her hands and her feet were blue," said Harrison.

"Investigators have learned the child might have been born in distress," said Captain John Raffield, Cherokee County Sheriff Department. A condition often caused by rapid labor and delivery complications that reduce blood flow to the baby.[sic]
Instead of taking the child to the hospital, parents called their church members and prayed their faith would save the child.

"We've seen many miracles as a church and as individuals, I'm not boasting but I'm just giving you something from our mindset," said Morris.
The group took instruction from a story in the Bible about a king who sought help from physicians rather than God.
"We're not against hospitals or medical fields or medicine we use hospitals and medicine. We're not against any of these things all we're against is that putting those things supremely over Christ," said Morris.

While the family mourns, Morris believes God's truth will honor Faith's death. Faith's parents have three other children all under the age of five. The Cherokee County Sheriff's Department is working with Child Protective Services on the investigation.

http://www.wtoc.com/story/18699396/memorial-service-audio-sheds-light-on-wells-church-group-beliefs?clienttype=printable


 

Last edited by Hythlodaeus (8/29/2013 3:14 pm)
Re: Wells, Texas
In the rest of Texas...

Just up the road, a Lufkin woman will be spending the next 10 years in prison. For sleeping with her baby and accidentally smothering it. You think, well surely, there's gotta more to that, right? Nope. There's not. An accident. 

By Jessical Cooley/The Lufkin News
Fri Aug 24, 2012
A Lufkin mother on Thursday was sentenced to one month shy of 10 years in prison in connection with the July 2010 co-sleeping death of her 4-month-old son. Baby Tristan was Vanessa Clark's second child to die while sharing a king-sized bed with her and her husband Mark. Following the 2009 death of 1-month-old Christian, which was ruled Sudden Infant Death Syndrome, Child Protective Services advised the couple not to share their bed with any future children, according to previous reports.
http://lufkindailynews.com/news/local/article_07ff4836-ed54-11e1-8b61-0019bb2963f4.html

LUFKIN, TX (KTRE) -A district judge has sentenced a Lufkin woman to 119 months in prison in connection to her infant son dying while she slept with him in 2010. Judge Paul White said Clark absolutely "disregarded" proper care of the child. "I cannot do apparently what you did and ignore the prior episode," said White.

______________________________

This child's parents are spending four years in jail. Because their home was roach-infested and dirty.
The death of Jake Kimbley, a two-year-old found in a septic tank early Wednesday morning, is being investigated as a homicide.
On Wednesday evening, Smith County District Attorney Matt Bingham spoke about the investigation; he says that right now, the case has to be treated as a homicide until it's proven that it was not.

"The family of the child took the remaining children, the living children, to an individual to stay with this individual who was just released from jail yesterday," Smith County District Attorney Matt Bingham said. "And that was one reason that concerns us. Another, in the home, as we put in our motion, had severe roach infestation. There were environmental hazards in that home that we believed posed a serious risk to the remaining children should they remain in the house, and we put that in the motion."
Bingham said that until the investigation is concluded, no one can be ruled out as a subject of the investigation.

"I'm very cognizant of the fact that these are two parents that have lost a child. The reality of it is, though, that they are people we look at because we're going to look at everyone until we can say they're not involved. And we're going to carry it as a homicide until we can say that it's otherwise," Bingham said.
District Attorney Bingham also said that as long as the case is being treated as a homicide, it is a capital murder investigation, solely because of Jake's age.

"They were quite dirty when we removed them from the home, the home conditions did concern us, so that's why we did take them into foster care, so we can continue our investigation alongside law enforcement about what really happened out there that day when the 2-year- old child died."
http://www.wafb.com/story/19347021/still-no-official-suspects-in


____________________________________


A two-year-old dies in foster care placement. She was removed from her parents because they admitted to smoking marijuana. Joshua Hill's daughter, Alexandria, was taken from him and his wife in November 2012 because they smoked pot in their Round Rock, Texas home while their child slept.

According to court records, Alexandria's mother had a medical condition that does not allow for the child to be left alone with her. The TDFPS also received allegations that Hill used marijuana on a regular basis and on one occasion Hill almost dropped Alexandria while going down the stairs of the home as he was trying to hand the child to his sister.
http://www.kxan.com/news/two-year-old-dies-in-foster-care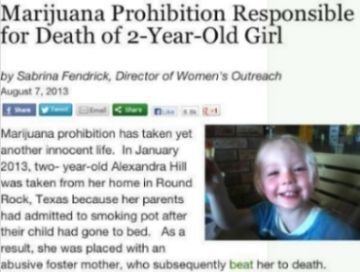 Last edited by Hythlodaeus (8/29/2013 4:30 pm)
Re: Wells, Texas
Well, shucks. Apparently they didn't "disregard proper care of the child."
Or have roaches. Or disregard the condition of the home. Or admit to smokin' the gange (but they would never inhale, right?). Or sleep with the baby, God forbid.

Priorities, don'tcha know.

Last edited by Hythlodaeus (8/29/2013 9:21 pm)
Re: Wells, Texas
...and yesterday in Texas...


Livingston PD: Couple arrested for leaving dog in hot car

LIVINGSTON, TX (KTRE) -Livingston Police officers arrested an East Texas couple on cruelty to animal charges Tuesday afternoon after they allegedly left their dog in their car for at least 20 minutes while they went grocery shopping.

Billy Ray Parker, 50, and Delois Jean Schumaker, 43, are still being held in the Polk County Jail on a charge of cruelty to non-livestock animals, which is a Class A Misdemeanor. Parker was also charged with driving without a valid license and failure to vaccinate dog. Bail was set at $2,500 each for Parker and Schumaker.
Lt. Matt Parrish, a spokesman for the Livingston Police Department, said LPD officers were dispatched out to a local grocery store at approximately 2:12 p.m. to check out a report that someone had left a dog in a hot car.
A Lab-mix breed dog was left in a car with the windows just barely cracked, Parrish said. He said the outside temperature was 96 degrees at that time and that the temperature inside a car can easily increase by 30 degrees within a 20 minute time span.Parrish said the LPD officers waited until the couple came out of the store, and arrested them at the scene for cruelty to non-livestock animals.

The Lab-mix dog was placed into the custody of the Livingston Police Department's animal control officer. Later, the dog was released into the custody of Parker and Schumaker's relatives. Parrish said this incident was the second one in about a week. Another couple could be facing similar animal cruelty charges because they left their dog in a hot car while they went shopping at the Livingston Walmart, he said.

Copyright 2013 KTRE. All rights reserved.


Priorities?

 

This is a conversation, an open dialogue, in the tradition of Free Speech. The purpose is to promote independent investigation, public debate and dialogue on cult and mind control issues critical to our social and individual well-being. Statements made reflect the writer's opinion. This forum acts to provide a space for electronic medium of information transfer, with the explicit understanding that each user will independently evaluate it and carefully make up his or her own mind as to its factual accuracy and usefulness. Independent individuals, organizations, authors, researchers, academicians and contributors may be exercising constitutional rights of petition, free speech, participation in government, or freedom of religion in researching, evaluating and freely discussing any matter. These discussions or statements may be constitutionally-protected opinions, speculation, allegations, satire, fiction, or religious beliefs or religious opinions of independent individuals, organizations or authors and as such, may or may not be factual.