In the rest of Texas...

Just up the road, a Lufkin woman will be spending the next 10 years in prison. For sleeping with her baby and accidentally smothering it. You think, well surely, there's gotta more to that, right? Nope. There's not. An accident. 

By Jessical Cooley/The Lufkin News
Fri Aug 24, 2012
A Lufkin mother on Thursday was sentenced to one month shy of 10 years in prison in connection with the July 2010 co-sleeping death of her 4-month-old son. Baby Tristan was Vanessa Clark's second child to die while sharing a king-sized bed with her and her husband Mark. Following the 2009 death of 1-month-old Christian, which was ruled Sudden Infant Death Syndrome, Child Protective Services advised the couple not to share their bed with any future children, according to previous reports.
http://lufkindailynews.com/news/local/article_07ff4836-ed54-11e1-8b61-0019bb2963f4.html

LUFKIN, TX (KTRE) -A district judge has sentenced a Lufkin woman to 119 months in prison in connection to her infant son dying while she slept with him in 2010. Judge Paul White said Clark absolutely "disregarded" proper care of the child. "I cannot do apparently what you did and ignore the prior episode," said White.

______________________________

This child's parents are spending four years in jail. Because their home was roach-infested and dirty.
The death of Jake Kimbley, a two-year-old found in a septic tank early Wednesday morning, is being investigated as a homicide.
On Wednesday evening, Smith County District Attorney Matt Bingham spoke about the investigation; he says that right now, the case has to be treated as a homicide until it's proven that it was not.

"The family of the child took the remaining children, the living children, to an individual to stay with this individual who was just released from jail yesterday," Smith County District Attorney Matt Bingham said. "And that was one reason that concerns us. Another, in the home, as we put in our motion, had severe roach infestation. There were environmental hazards in that home that we believed posed a serious risk to the remaining children should they remain in the house, and we put that in the motion."
Bingham said that until the investigation is concluded, no one can be ruled out as a subject of the investigation.

"I'm very cognizant of the fact that these are two parents that have lost a child. The reality of it is, though, that they are people we look at because we're going to look at everyone until we can say they're not involved. And we're going to carry it as a homicide until we can say that it's otherwise," Bingham said.
District Attorney Bingham also said that as long as the case is being treated as a homicide, it is a capital murder investigation, solely because of Jake's age.

"They were quite dirty when we removed them from the home, the home conditions did concern us, so that's why we did take them into foster care, so we can continue our investigation alongside law enforcement about what really happened out there that day when the 2-year- old child died."
http://www.wafb.com/story/19347021/still-no-official-suspects-in


____________________________________


A two-year-old dies in foster care placement. She was removed from her parents because they admitted to smoking marijuana. Joshua Hill's daughter, Alexandria, was taken from him and his wife in November 2012 because they smoked pot in their Round Rock, Texas home while their child slept.

According to court records, Alexandria's mother had a medical condition that does not allow for the child to be left alone with her. The TDFPS also received allegations that Hill used marijuana on a regular basis and on one occasion Hill almost dropped Alexandria while going down the stairs of the home as he was trying to hand the child to his sister.
http://www.kxan.com/news/two-year-old-dies-in-foster-care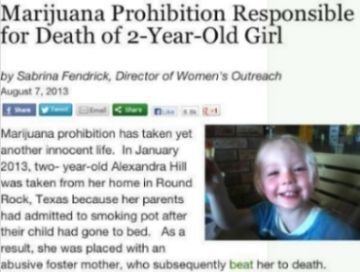 Last edited by Hythlodaeus (8/29/2013 4:30 pm)