Church of Wells/YMBBA Ministries
Baltimore - Death Opens Doors on Group

Death Opens Doors on Group

By Dan Morse
Washington Post Staff Writer 
Sunday, March 29, 2009

Members of One Mind Ministries drew little notice in the working-class Baltimore neighborhood where they lived in a nondescript brick rowhouse.

But inside, prosecutors say, horrors were unfolding: Answering to a leader called Queen Antoinette, they denied a 16-month-old boy food and water because he did not say "Amen" at mealtimes. After he died, they prayed over his body for days, expecting a resurrection, then packed it into a suitcase with mothballs. They left it in a shed in Philadelphia, where it remained for a year before detectives found it last spring.





Tomorrow, five of the group's alleged members -- including the boy's mother, Ria Ramkissoon -- are scheduled to be tried in Baltimore on murder charges. Sources and Ramkissoon's mother said Ramkissoon, 22, has agreed to plead guilty to a lesser charge on one condition: The charges against her must be dropped if her son, Javon Thompson, is resurrected.

Psychiatrists who evaluated Ramkissoon at the request of a judge concluded that she was not criminally insane. Her attorney, Steven Silverman, said the doctors found that her beliefs were indistinguishable from religious beliefs, in part because they were shared by those around her."She wasn't delusional, because she was following a religion," Silverman said, describing the findings of the doctors' psychiatric evaluation.



Home video shows Ramkissoon with the child in 2006, before she joined 1 Mind Ministries.
Click image to go to video

At the time of Javon's death, thought to be in January 2007, One Mind numbered no more than a dozen adults and children. The group claimed to find authority for its beliefs in the Bible. New members surrendered cellphones and broke off contacts with friends and family, according to law enforcement officials and Silverman.

Silverman said he and prosecutors think Ramkissoon was brainwashed and should have been found not criminally responsible; prosecutors declined to comment. Although an inability to think critically can be a sign of brainwashing, experts said, the line between that and some religious beliefs can be difficult to discern."

At times there can be an overlap between extreme religious conviction and delusion," said Robert Jay Lifton, a cult expert and psychiatrist who lectures at Harvard Medical School. "It's a difficult area for psychiatry and the legal system."

Ramkissoon's mother, Seeta Khadan-Newton, said she is concerned that Ramkissoon might remain in the thrall of One Mind and back out of the plea agreement at the last minute. "I'm so scared. I don't know what's going to come out of her mouth," Khadan-Newton said. Under the agreement, Ramkissoon, known within the group as Princess Marie, would plead guilty to child abuse resulting in death and cooperate with prosecutors. The murder charge would be dropped, and prosecutors would recommend probation and treatment.

Ramkissoon was born into a Hindu family in Trinidad but embraced Christianity after she moved to Baltimore at age 7 to live with her mother, a nursing assistant, Khadan-Newton said. She participated in the Junior ROTC program at Northwestern High School and graduated with honors.In 2005, she became pregnant by her boyfriend. By the time Javon was born, in September of that year, his father was in jail on a charge of attempted murder.

Ramkissoon enrolled in classes to be a pharmacy technician but found it difficult to leave her son with family members, relatives said. According to Ramkissoon's relatives and law enforcement officials, a friend who was also a new mother told her about a "family" she lived with, about how she didn't have to work and could dedicate herself to raising her son. Ramkissoon paid a visit and soon decided not to return to her family's apartment.



"They promised her safety, a way away from everything," Ricky Ramkissoon said of his older sister. "She probably thought that that's what she needed."

In April 2006, Khadan-Newton tried to persuade her daughter to leave One Mind. Outside the rowhouse, she hugged Ramkissoon and begged her to come home, or at least to let her see Javon. Khadan-Newton said Ramkissoon just stood there, emotionless. "It was like she was a complete stranger," she said.

Ricky Ramkissoon said One Mind allowed him to visit his sister twice before he made clear he didn't want to join. He said he once saw Queen Antoinette blow marijuana smoke in Javon's face. Members of the group believe that marijuana "frees your soul," he said.Queen Antoinette, 40, does not have an attorney, according to court records. Officially known by that name in the records, she is in jail and could not be reached for comment.

According to charging documents, in December 2006, Javon stopped saying "Amen" at mealtimes. Queen Antoinette told members the boy had developed a demonic spirit and needed to be cleansed through fasting and by being denied water, law enforcement officials said.

Ramkissoon found it "unbearable" to watch but followed the instructions, the officials said. "In her mind, an apostle of God had ordered this," Silverman said.

Javon's skin turned dark and he stopped moving, according to charging documents. Ramkissoon tried to feed him, but his mouth would not open. She felt for a heartbeat but detected none.The body was placed on a mattress in a back room, and Queen Antoinette told her followers that God would "raise Javon from the dead," according to the charging documents.

Javon's body remained there for at least a week, police said. Eventually, it was wrapped in a blanket and placed in a suitcase. Queen Antoinette burned the mattress and Javon's clothes, police said, and the room was washed down with bleach.

The group came to believe there had been no resurrection because someone among them was not a true believer, according to an attorney for one of the other defendants, Marcus Cobbs. With that person no longer part of the group, they headed north out of Baltimore with the suitcase, believing Javon could be raised at a future date, according to Cobbs's attorney, Maureen Rowland.

For a time, the remaining four adults and two children were homeless, wheeling the suitcase around with them on the streets of Philadelphia. In April 2007, an elderly man whom Queen Antoinette had met a dollar store agreed to keep their luggage in a locked shed while they continued on to New York.

Khadan-Newton found her daughter in Brooklyn in February 2008. She asked her about Javon. "He's gone, he's lost," Ramkissoon told her mother, according to the charging documents.

Khadan-Newton contacted police, and detectives found the suitcase two months later. Investigators approached Ramkissoon. She refused to say where her son was, but she assured them that he was alive. A DNA test, however, soon showed that she was the mother of the dead child, police said.

By late summer, Ramkissoon and the other defendants -- the five adults who prosecutors allege were living at the house when Javon died -- had been charged.

In December, Ricky Ramkissoon visited his sister in the Baltimore jail and found her to be "like a different person every five seconds." At times, he said, she talked about games they played as children and teased him about his unusual gait. "Do you still walk like Big Bird?" she asked him. But she lapsed again and again into the beliefs she absorbed as a member of One Mind. At one point, she told him, "Javon isn't dead."

Staff researcher Meg Smith contributed to this report.
Re: Baltimore - Death Opens Doors on Group
Waiting for a Resurrection
A strange and horrifying Baltimore murder case challenges authorities on the boundaries between religious zeal and brain-washing.





BALTIMORE CIRCUIT COURT
In Plea Deal, Mother to Testify Against Cult, Go Free if Son Rises From Dead

Accepting a plea bargain that her attorney described as unprecedented in American jurisprudence, a 22-year-old Maryland woman yesterday agreed to cooperate in the prosecution of other defendants in the death of her son under the condition that charges against her be dropped if the child rises from the dead.

"It also is specifically noted," Baltimore Circuit Court Judge Timothy Doory said in court as he described the plea bargain to the boy's mother, "that if the victim in this case, Javon Thompson, is resurrected, as you still hold some hope he will be, you may withdraw the plea, and the charges will be nolle prossed [withdrawn] against you."

The boy's mother, Ria Ramkissoon, is shaping up as prosecutors' star witness against a 40-year-old Baltimore woman named Queen Antoinette. Prosecutors allege that Queen Antoinette led a small cult, called One Mind Ministries, based in a West Baltimore rowhouse. In early 2007, prosecutors say, Queen Antoinette instructed Ramkissoon and others to deprive Javon of food and water because he didn't say "amen" before breakfast.

Queen Antoinette has been charged with first-degree murder and child abuse resulting in death, as have three of her alleged followers. Any trial is expected to be at least two months away.

In yesterday's hearing, prosecutors said they would drop murder charges against Ramkissoon. She pleaded guilty to child abuse resulting in death. If she testifies truthfully against the other defendants, according to yesterday's agreement, prosecutors will recommend that she be released from jail, placed on probation, and provided treatment that could include "a process of deprogramming."

A spokeswoman for the Baltimore state's attorney's office said that in recent weeks, as prosecutors and Ramkissoon's attorney discussed the plea bargain, prosecutors made it clear that Ramkissoon could not get out of her obligations if she asserted that Javon came back as anything other than himself. "This would need to be a Jesus-like resurrection," Margaret Burns, the spokeswoman, said after the hearing. "It cannot be a reincarnation in another object or animal."

Ramkissoon, listed in court records as five feet tall and 100 pounds, was led into court wearing jeans, a bright yellow shirt, leg chains and handcuffs. She displayed little emotion, walking past friends and relatives without appearing to make any prolonged eye contact. Her mother sobbed in her seat, both before the plea and while prosecutors read aloud the facts as they see them.

Prosecutors said Queen Antoinette concluded that Javon had developed a "spirit of rebellion" and should not be given food or water for at least two days. Fearing that his mother, Ramkissoon, might "break down and feed the child," Queen Antoinette ordered that the child be given to another group member, prosecutors alleged yesterday.

After Javon died, he was placed on a couch while everyone knelt down and prayed. Ramkissoon also danced around her son, prosecutors said. The boy's body was later moved to a back room.

At one point, two members measured Jason's body and bought a suitcase. Members believed that if the body could travel with them, it could be resurrected at a later date, said Steven Silverman, Ramkissoon's attorney. The group members left the suitcase with a man they had befriended. Police eventually discovered it in his shed in Philadelphia.

Also during yesterday's hearing, Queen Antoinette and another defendant, Trevia Williams, indicated that they had attorneys but didn't say who they are. Queen Antoinette said little during the hearing. She talked quietly with courtroom security officials during breaks.
Re: Baltimore - Death Opens Doors on Group



3 reputed cult members convicted in toddler's death 
Defendants could face up to 60 years in prison each

March 03, 2010 | By Tricia Bishop | tricia.bishop@baltsun.com

A Baltimore jury deliberated less than three hours before finding three accused cult members guilty Tuesday of starving a 16-month-old to death because he did not say "amen" before meals. 

Marcus Cobbs, 23; Trevia Williams, 22; and her 41-year-old mother, Toni Sloan - who claims God renamed her "Queen Antoinette" - each faces a maximum of 60 years in prison. Sentencing is scheduled May 18. 

The verdicts brought a swift end to a case that captured national attention. The defendants represented themselves in the weeklong trial, and witnesses told stories of strict religious rules, fears about demonic possession and the attempted resurrection of a toddler named Javon Thompson. But nothing - not even "justice in this case" - will bring Javon back, his grandmother, Seeta Newton, said Tuesday on the courthouse steps, a photo of Javon pinned to her collar. "I wish I could just hold Javon and hug him."

The boy's mummified remains were discovered in April 2008, about 15 months after he died in a Baltimore apartment. His body was shrouded in sheets and packed away among mothballs and dryer cloths inside a green suitcase that was left in a Pennsylvania shed.

It was part of an odd cover-up, prosecutors said, that also involved committing a woman to a mental facility and leading the boy's mother to believe she could bring her dead child back through faith, all under the direction of "the Queen," whose weapon was the "fear of eternal damnation."

"There is a reason she calls herself Queen Antoinette," Baltimore City Assistant State's Attorney Julie Drake, chief of the felony family violence division, said during closing arguments Tuesday. "Queens give orders, and she expected to be obeyed."

Antoinette's former lover, Steven Bynum, described her as a bright, chatty woman who gave good business advice. He helped her financially and found her a place to live soon after they met in Baltimore in 2004. By 2005, he had also helped her establish a business, at least on paper, called "1 Mind Ministries."

In a letter trying to establish nonprofit status for the organization, Antoinette described herself as "a chosen daughter of the most high God" and a "Queen of Jesus Christ," Drake said in court.

The mother of four ran her household with a strict set of rules developed from her interpretations of the Bible. Members were to wear certain colors - tan, white or blue - travel in pairs and home-school the youngest children. Those who couldn't abide by the rules couldn't stay.

In early 2006, her daughter, Williams - known as "Princess" Trevia - became friends with several troubled young Baltimore women and apparently invited them to live in her home, so long as they abided by Antoinette's rules.

They abandoned the corpse, in its suitcase, in Pennsylvania and moved to New York City, where Cobbs had Danielle Smith committed to keep her from confessing to neighbors, according to testimony. She eventually convinced a social worker that her story was true, and the scheme began to unravel. Members of the group were arrested in August 2008.

During closing arguments Tuesday, Antoinette said she had rules but never forced compliance. She complained of the media attention and the prosecution's allegations. "We've been like pariahs," she said, and the public's mind has been "poisoned" against them. "I've never been in a cult, nor a leader in such a way. ... These people want to blame someone for this child's death, so they've chosen us."

Deliberations began shortly before 1 p.m., and a verdict was returned by 4 p.m., leaving two hours of consideration after accounting for the lunch break. Jurors found the defendants guilty of first-degree child abuse resulting in death and second-degree murder. Cobbs was also convicted of being an accessory after the fact for participating in the cover-up: He measured Javon's body for the suitcase and burned the boy's bed.

A first-degree murder charge against Antoinette was dropped Monday by Baltimore Circuit Judge Timothy J. Doory, prosecutors said. Doory did not immediately return a message seeking clarification.

The defendants kept stony faces as their fate was announced, after Doory's directions to show no emotion. The judge also ordered medical evaluations and background reports for the defendants in preparation for sentencing. The women had earlier refused certain psychological evaluations. Drake said she was "relieved by the verdict," though she bristled at the idea that Antoinette felt victimized. The only victims here were Javon and his grandmother, Drake said. Newton stood beside her, a picture of her daughter - Javon's mother - in her pocket. Ramkissoon is about 10 in the photo, a lovely young girl with clear eyes.

Ramkissoon has pleaded guilty to child abuse resulting in death and is awaiting sentencing, which is expected to be a 20-year suspended term and some kind of residential counseling. She's quiet now, and withdrawn, not the vibrant daughter Newton remembers. And she still believes her son will come back to life if she has faith enough. "It's going to take years for Ria to get back to the child I know," Newton said. "It's going to be a long, long time."

Sisters Danielle and Tiffany Smith, who had a young son named Christian, moved in, followed by Christian's father, Marcus Cobbs.

Ria Ramkissoon, now 23, and her son, Javon, came in April of that year. Ramkissoon had converted to Christianity from Hinduism in middle school, and she wanted to practice a religious life, as well as spend more time with her son. She also wanted to leave her mother's house, where she didn't get along with her stepfather. "I didn't want [any of] them there," Antoinette said during her closing arguments, but, she added, "I felt as though I was supposed to help because they came to me."

Things were peaceful in the house for a time, and there was no physical violence, witnesses said, though Antoinette could have a sharp tongue. 

But Tiffany Smith caused trouble and was put out for not following the rules.

Then, in late 2006 or early 2007, Javon stopped playfully repeating his version of the word "amen" when his mother cued him after prayer, Ramkissoon said. That's when Antoinette said he shouldn't eat until he complied, a punishment meant to rid him of a "spirit of rebellion." Ramkissoon took the term literally and believed her son was demonically possessed.

Days passed.

"His skin discolored, his eyes sunk in, his lips got chapped," Assistant State's Attorney Patricia McLane told the jury during her closing arguments Tuesday.

Witnesses testified that Javon moaned and grew thinner. He spat up a mysterious black fluid and lost the energy even to crawl. And no one did anything to help him. Cobbs tried early on but changed his mind after a conversation with Antoinette, witnesses said. And Williams allegedly took physical control of the boy, at least at night while the group slept.

"Nobody did anything," Drake said. "That's the basis of the crime."

After Javon died, Antoinette blamed Ramkissoon, saying she was a bad mother. Antoinette told her to nurture him back to life and condemned her when she couldn't, witnesses said. Ramkissoon continued to care for the dead boy for weeks, singing to him and reading him stories. After nearly being found out by their landlord, the group packed up and moved, bringing Javon's body with them.
Re: Baltimore - Death Opens Doors on Group


Witness: Accused cult leaders had her committed to keep quiet 
Woman eventually told N.Y. agency of boy's starvation, leading to group's arrest

February 25, 2010 | By Tricia Bishop | Baltimore Sun reporter

A woman who once lived with three accused cult leaders testified Thursday that they had her involuntarily committed to a mental hospital to keep her quiet about a toddler's starvation death.

Danielle Smith, 26, said she tried to alert neighbors to the boy's food deprivation, which began as punishment for refusing to say "amen" after prayer, but couldn't because she was not allowed to be alone with outsiders.

She said she left a vague hint scrawled across one wall -- the sentence, "We love our children" -- before the group put her out of its New York City apartment, where they had moved after the 16-month-old, emaciated child died in Baltimore. A day later, they escorted her to the psychiatric ward of Kings County Hospital Center.

"The people at the hospital thought I was crazy," Smith said. Yet, she was able to tell her story to police and a New York child protective agency, where a case worker believed her, leading to the group's eventual arrest.

Smith said she lived with the group because they convinced her that her own mother was a "witch" and that her family did not properly follow the Bible. She was later diagnosed with post-traumatic stress disorder. The alleged cult leaders -- Toni Sloan, who's known in court as Queen Antoinette, 41; her daughter, Trevia Williams, 22; and Marcus Cobbs, 23 -- have been charged with murder in the death of baby Javon Thompson, who belonged to another young woman who was also led to believe her mother was evil.

The defendants are representing themselves in Baltimore City Circuit Court, where witnesses have said the small group used Bible scripture to encourage adherence to a bizarre list of rules that allowed children to fast and use marijuana, but prevented anyone from wearing colors other than tan, blue or white.

Queen Antoinette believed she did not have "to abide by certain laws of the land," Smith testified, because the religious leader, who christened herself "Queen," was beholden only to God.
Re: Baltimore - Death Opens Doors on Group
Justice served in Ramkissoon case
Those most responsible for toddler's death received tough sentences

June 02, 2010
By Julie Drake

A number of local citizens have raised questions about the sentencing of Ria Ramkissoon, mother of 16-month-old Javon Thompson, who died of dehydration and starvation while living with a cult in West Baltimore. In order to understand her sentence, it is important to understand the facts that formed the basis for Ms. Ramkissoon's guilty plea and the trial of her co-defendants. 

In 2006, Ms. Ramkissoon was persuaded by a friend to join a household run by a woman who called herself "Queen Antoinette." Ms. Ramkissoon was told that this was a Christian household where she could devote herself to the care of her child, Javon, then 7 months. Toni Sloan, aka "Queen Antoinette," ran her household under a strict set of rules, which she said were based on biblical principles. As time passed, the rules multiplied and became more restrictive. Eventually, all members were required to give up their personal possessions (including identification), as well as contact with old friends and family. The children were not permitted to attend school, and the women were expected to stay home and care for the children. With the exception of Queen Antoinette, her daughter Trevia Williams ("Princess Trevia"), and her chief aide, Marcus Cobbs ("Prince Marcus"), no one could leave the house, unless they were accompanied by another member. Queen Antoinette claimed that God spoke directly to her; failure to follow her rules would result in damnation.

One morning in early 2007, Javon, then 16 months, refused to say "amen" after the blessing before breakfast. Queen Antoinette told the others that Javon possessed a "spirit of rebellion" and that God told her that the way to purge Javon of this evil spirit was to deprive him of food and water until he said "amen." As Javon cried from hunger, Queen Antoinette warned the household members not to feed him. Ms. Ramkissoon was so distraught over this that Queen Antoinette ordered Ms. Williams to take control of Javon; she did not want Ms. Ramkissoon to disobey her order. When it became clear that Javon was on the verge of death, he was returned to his mother, and he died in her arms.

After Javon's death, Queen Antoinette ordered everyone to kneel and pray for his resurrection. God would bring Javon back to life, she said, but only if they had enough faith. As the days passed and Javon's body began to decompose, the only person who remained by his body was his mother. When Ms. Ramkissoon wondered why Javon had not risen from the dead, Queen Antoinette told her she wasn't a good enough mother and she didn't have enough faith. Ms. Ramkissoon believed her. The cult members moved to Philadelphia, where Javon's body was placed in a suitcase inside a locked shed. It was left there when the group moved again, to New York. As of the trial date, Ms. Ramkissoon still believed that Javon could be resurrected.

Ms. Ramkissoon received a sentence of 20 years, with all but the time she has already served suspended, and five years' probation. Pursuant to her plea agreement, she testified at the trial of Queen Antoinette, Trevia Williams and Marcus Cobbs, helping to secure convictions of all three on charges of second-degree murder and child abuse resulting in death. Also pursuant to the agreement, Ms. Ramkissoon was immediately driven to a residential treatment facility, where she will be held indefinitely. At Ms. Ramkissoon's insistence, the court agreed that if Javon is resurrected, she can come back to court and withdraw her guilty plea.

Why did I agree to let Ms. Ramkissoon withdraw her guilty plea if Javon is resurrected? If Ms. Ramkissoon's religious beliefs are correct, and Javon resurrects, it would be legally appropriate. That said, I do not share Ms. Ramkissoon's religious beliefs, and I believe the likelihood of Javon's resurrection in my lifetime is too remote to be a concern. I carefully specified on the record that this condition involved resurrection of Javon's body — not reincarnation into another body.

Why did Ms. Ramkissoon receive probation? There are a number of reasons why one co-defendant receives a more lenient sentence than the others, several of which applied to Ms. Ramkissoon's case.

First, it was clear to everyone that the central and most culpable defendant in this case was Queen Antoinette. She was the leader of the cult. She issued the order to withhold food and water from Javon. She warned the others not to feed Javon and removed Javon from Ms. Ramkissoon's control. Our first priority was to convict Queen Antoinette of child abuse and murder and to secure a substantial prison term in her case. In order to do that, it was necessary to obtain eye-witness testimony, and Ms. Ramkissoon was willing to tell the truth.

Second, and equally important, I believe that justice was best served by placing Ms. Ramkissoon in a residential treatment facility rather than in prison. It was clear to everyone who interviewed Ms. Ramkissoon that she had been indoctrinated through classic "brainwashing" techniques into a cult. She had no malice or ill will toward Javon; quite the contrary, she believed Queen Antoinette was acting in his best interests. Nonetheless, she was extremely distraught when Javon began showing signs of distress. After Javon's death, Ms. Ramkissoon spent weeks by his decomposing body, praying for his resurrection. This was not an individual who was acting out of a classic criminal intent (e.g. malice, anger, desire for revenge or gain), but rather a mother who has and will suffer anguish over the result of her inaction.

It should be noted that the main reason Ms. Ramkissoon was not found "not criminally responsible" is because her delusions were of a religious nature and were shared by other people; therefore they could not be classified as a "mental disorder."

However, Ms. Ramkissoon was not simply released to freedom. A condition of her probation is that she remain in and successfully complete a long-term, in-patient, residential treatment program. Should she leave the facility against medical advice, fail to successfully complete the program, or violate any other condition of her probation, Ms. Ramkissoon could be incarcerated for almost 20 years.

As a prosecutor, my ethical obligation is to do justice, not to secure a conviction or the maximum possible sentence. In the case of Ria Ramkissoon, I believe the guilty plea and sentence were just.

In other circumstances, I would make different sentencing recommendations. When I prosecuted Mark Castillo for drowning his three children, I asked for and received a sentence of three consecutive life terms without parole, the harshest sentence the defendant could have received.

Justice requires a meticulous review of the facts and the evidence, the role of each defendant, and the wishes of the family members. That is what I did in this case. I respect the fact that not everyone will agree with me, but I would ask those who disagree to take a careful look at the factors I considered before rushing to judgment.

(Editor's note: On May 18, "Queen Antoinette" was sentenced to 50 years incarceration. Both Trevia Williams and Marcus Cobbs were sentenced to 50 years incarceration, with all but 15 years suspended.)


Julie Drake is division chief in the Felony Family Violence Division of the Baltimore state's attorney's office. She may be reached at mail@stattorney.org.
Re: Baltimore - Death Opens Doors on Group

©2008 Patrick Smith 
"Seeta Khadan-Newton, mother of Ria Ramkissoon, 21, who was recently charged with killing her 21-month-old son, Javon Thompson, while she was part of a tiny religious cult that seemingly kept to itself in the inner city, says she still cannot believe it. Khadan-Newton had been fighting since April 2006 to extricate her daughter and grandson from the cult; four other members have thus far been charged."

Heartbreaking, I needed not only to make some copied pictures of Javon during my assignment, but capture Khadan-Newton in a way readers could understand the story. 
After she looked through pictures for me, I asked her to describe how old and when the two large framed pictures on the table were taken. 
The pictures were placed with a rose, were placed nicely in the room so that they stood out and I knew they had deeper meaning to them.
As I sat on the end of the couch, Khadan-Newton picked them both up and began speaking; describing things she missed about her grandson and daughter. 
But when she got to Javon's picture, she got choked up. She was at a loss for words. 
For a very brief moment, she removed her eyes from the picture, staring at the ceiling, and clinched her mouth shut to hold back her deep loss for her grandson. 
I finally got some emotion that she really felt. Although a by the book image of a subject holding framed pictures or not, I think it illustrated the story of her loss of both her daughter and grandson.

Photojournalist Patrick Smith
www.patricksmithphotos.com

All rights reserved. Used with permission.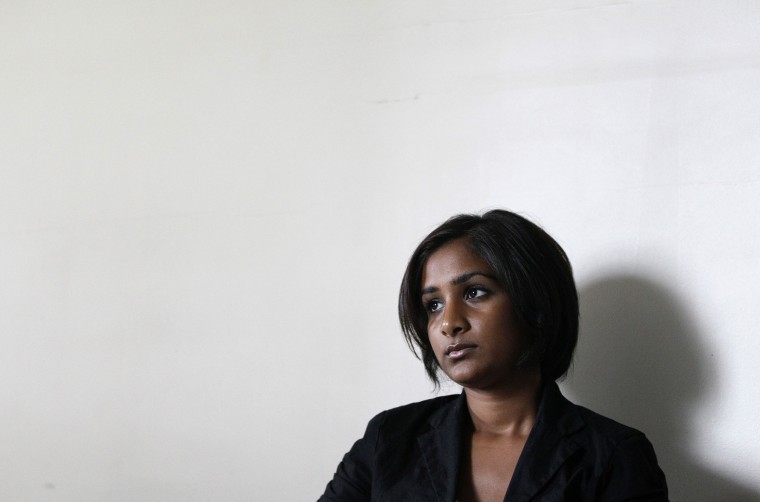 (AP Photo/Patrick Semansky) | Sep 5, 2011

Ria Ramkissoon sits in a chapel at a a faith-based treatment center in Westminster, Md. Ramkissoon is rebuilding her life after following a cult leader who ordered her not to feed her toddler son, who eventually died of starvation and was discovered more than a year later by investigators. Now living and working at the treatment center, Ramkissoon freely uses the word "crazy" to describe her actions, which were set in motion by her desire to provide a better home for her son.
 

This is a conversation, an open dialogue, in the tradition of Free Speech. The purpose is to promote independent investigation, public debate and dialogue on cult and mind control issues critical to our social and individual well-being. Statements made reflect the writer's opinion. This forum acts to provide a space for electronic medium of information transfer, with the explicit understanding that each user will independently evaluate it and carefully make up his or her own mind as to its factual accuracy and usefulness. Independent individuals, organizations, authors, researchers, academicians and contributors may be exercising constitutional rights of petition, free speech, participation in government, or freedom of religion in researching, evaluating and freely discussing any matter. These discussions or statements may be constitutionally-protected opinions, speculation, allegations, satire, fiction, or religious beliefs or religious opinions of independent individuals, organizations or authors and as such, may or may not be factual.