Church of Wells/YMBBA Ministries
Oregon Church of the First Born - Rossiters set for trials



Rossiters set for trials; court paperwork details faith-healing church
February 20, 2014 •  By Kyle Odegard

An Albany couple accused of manslaughter in the February 2013 death of their daughter belong to an informally organized religious denomination that believes in faith healing, shuns military service, doesn't have paid clergy, and has existed in the United States for more than a century, according to 1990s Linn County Circuit Court filings.

Travis Lee Rossiter and Wenona Rossiter appeared in Linn County Circuit Court on Wednesday morning and were scheduled for separate two-week trials. His is set to begin Aug. 18. Hers is scheduled to start Nov. 3. "There is a possibility it could get consolidated," Judge Daniel Murphy said.



The Rossiters belong to the General Assembly of the Church of the First Born, Albany police have said. In 1996, Wenona Rossiter's father, Loyd Hays of Brownsville, also a church member, was convicted of charges of criminally negligent homicide regarding the death of his 7-year-old son. Her mother, Christina Hays, was acquitted.

In that case, paperwork filed by defense attorneys James Egan and Paul Kuebrich detailed the church. At that time, the church had about 100 congregations nationwide, with between 16,000 to 20,000 members, according to a memorandum written by Egan and Kuebrich.The highest concentration of Church of the First Born members was in Oklahoma, but Oregon had congregations in Brownsville, Monroe, Goshen, and Hillsboro. The church had been active for decades in the mid-Willamette Valley. 
Denomination members avoid the military because the Bible forbids killing, the attorneys wrote."They dress and behave modestly. Men commonly wear plain trousers and plain shirts; women generally wear dresses and let their hair grow long as the scriptures state that 'a woman's hair is a glory' ... Cosmetics and jewelry are avoided. Usually the only jewelry that an adult 'true follower' will wear is a wedding band," the memo states.

The defense attorneys added that children are not automatically members of the church, and must choose baptism. Some are baptized as elementary schoolers, others wait until they are middle-aged.The memo also said the Church of the First Born and the Hayses relied on their faith to heal the sick. When Tony Hays' health deteriorated in October and November 1995, "his parents called the elders, who laid their hands on Tony's head and prayed for him," the defense attorneys wrote.

Church of the First Born members do use first-aid, however, and hearing aids and glasses are used by church members because they are "like the crutches of the lame in the Bible," the memo states. According to the 1995 affidavit of Benton Johnson, then the head of the department of religious studies at the University of Oregon, the Church of the First Born was founded in 1907 as a Pentecostal group. Kuebrich and Egan wrote that the Church of the First Born came to the United States in the 1860s, and were at that time known as "true followers."

The Rossiters have each been charged with a count of first-degree manslaughter and second-degree manslaughter. Albany police, who investigated the death of 12-year-old Syble Rossiter in February 2013, arrested her parents on Aug. 29. The Rossiters were released from jail after being arraigned on Aug. 30.

Click here for grand jury indictments

The family also was in the Linn County courts in 1981, when they lost a court battle to keep an infant girl from getting medical treatment for a condition that causes the skull to swell. That girl was the aunt of Wenona Rossiter.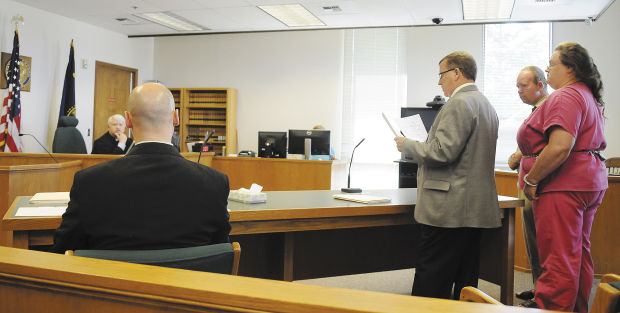 Moderator

Offline
Re: Oregon Church of the First Born - Rossiters set for trials
"God put doctors on this Earth for people who don't believe strongly enough in God – that He can heal them. That's why doctors are here. It's for the unbelieving. Somebody who just don't believe that God can heal them."
                                                                                                 -- Travis Rossiter, father of dead child
Moderator

Offline
Re: Oregon Church of the First Born - Rossiters set for trials


Opening arguments heard in faith healing couple's manslaughter trial
NOVEMBER 04, 2014 6:22 PM • BY KYLE ODEGARD


"Deputy District Attorney Keith Stein said the case boiled down to three buttons on a phone — 9-1-1."

"This case is not about their religion. It's about the minimum standard medical care that our laws will tolerate when it comes to our children."
"In interviews with detectives, the parents said that, based on their beliefs, they wouldn't have done anything different."
The trial is scheduled to continue through Nov. 14.

Read the article here
Re: Oregon Church of the First Born - Rossiters set for trials

Jury Deliberates in Manslaughter Case 
by Rhoda Krause
November 10, 2014
 

ALBANY, Ore. — An Albany manslaughter case is now in the hands of the jury.

Wenona and Travis Rossiter are accused of manslaughter in the first and second degree for recklessly and negligently causing the death of their 12-year-old daughter Syble, who died from untreated diabetes last February. The state argues Syble's diabetic symptoms were obvious, and that her parents should have known to take her to a doctor. The Rossiters, who are members of Church of the First Born in Brownsville, believe in faith-healing practices instead of medical treatment.

The state rested its case Monday morning, and the defense called its two witnesses to the stand: a teacher who works at Sand Ridge Charter School and Wenona Rossiter. Tiffany Bolman, who works at Sand Ridge outside of Lebanon, taught one of Syble's siblings. On Monday, she testified that around the time of Syble's death, at least half of the student population was out sick with the flu.

Wenona Rossiter also took the stand on Monday. She says the case has nothing to do with her religion because she thought Syble had the flu, and did not realize the girl had type one diabetes. "I always prayed that God would allow the body to naturally take care of itself," she said. "I had no idea – the day my daughter died – that the body was destroying itself. Instead of taking care of itself. I had no idea."


Wenona Rossiter says the case is not about refusing to take her daughter to see a doctor either. Instead, even though she admits to praying for her daughter's recovery, she says she only thought Syble had the flu. "It's been hard," she said about listening to testimony in the trial. "Especially hearing from the doctors. It just tore me up inside that as a mother, I had no idea that that was going on."

Keith Stein, representing the Linn County District Attorney's Office, asked Wenona if she would personally undergo surgery if she broke a bone. She said no. But in her defense, she argues that she did one time take her husband to the emergency room.

"Do you believe that it was God's will for Syble to die?" Stein asked her.

"Yes."

Oregon law allows parents to treat their children through prayer as long as they do not have life-threatening conditions. The constitution gives citizens the freedom of religious practices and beliefs, and prohibits prosecution of citizens based on their religious beliefs.

However, parents are also legally responsible to provide their kids with adequate medical care. The question for the jury comes down to: did the parents recklessly and negligently cause their daughter's death by not providing care for her?
Re: Oregon Church of the First Born - Rossiters set for trials


Parents found guilty in faith-healing case
Syble Rossiter, 12, died in February 2013

By KOIN 6 News Staff
November 10, 2014



Travis Rossiter and his wife Wenona Rossiter are on trial for the death of their daughter from untreated diabetes, Nov. 7, 2014 (KOIN 6 News)


ALBANY, Ore. (KOIN 6) — A jury found the Albany parents of a 12-year-old girl guilty Monday evening for turning to prayer rather than medicine to treat their dying daughter. KEZI reports that after four hours of deliberating, the jury found both Wenona and Travis Rossiter guilty of manslaughter in the first and second degree.

The Rossiters are members of the Church of the First Born, whose members believe traditional medical treatment is sinful. Their daughter, Syble Rossiter, was 12 when she died in February 2013 after being deprived of life-saving medical care for diabetes.

Their lawyers argued their beliefs should be excluded as prejudicial – that they should be tried for their actions rather than their beliefs.

In May, Judge Daniel Murphy ruled that if their beliefs compelled their actions, that's a form of motive evidence.

The trial began earlier Tuesday and concluded with the guilty verdict Monday evening. The Rossiters will be sentenced next month, according to KEZI.


                                                  



This is a conversation, an open dialogue, in the tradition of Free Speech. The purpose is to promote independent investigation, public debate and dialogue on cult and mind control issues critical to our social and individual well-being. Statements made reflect the writer's opinion. This forum acts to provide a space for electronic medium of information transfer, with the explicit understanding that each user will independently evaluate it and carefully make up his or her own mind as to its factual accuracy and usefulness. Independent individuals, organizations, authors, researchers, academicians and contributors may be exercising constitutional rights of petition, free speech, participation in government, or freedom of religion in researching, evaluating and freely discussing any matter. These discussions or statements may be constitutionally-protected opinions, speculation, allegations, satire, fiction, or religious beliefs or religious opinions of independent individuals, organizations or authors and as such, may or may not be factual.