Church of Wells/YMBBA Ministries
Philadelphia faith-healing couple accused of murder must stand trial
June 2013

Arguments that a Philadelphia faith-healing couple did not know their baby was sick enough to die failed to convince a judge to dismiss murder charges arising from the death of their infant son in April.
The city medical examiner's office ruled that baby Brandon Schaible died on April 18 of bacterial pneumonia and dehydration.
Brandon's parents belong to a church that believes in divine healing. This is the second child of the family to die because of failure to seek medical help.

http://www.reuters.com/article/2013/06/12/us-usa-philadelphia-faithhealing-idUSBRE95B18B20130612

Philadelphia Municipal Court Judge Charles Hayden rejected claims by defense attorneys that prosecutors could not show gross negligence, malice or that the parents knew the baby was about to die.
Prosecutor Joanne Pescatore: "They did nothing to help that child. That's why it's murder."

Church leader Reverend Nelson Clark said that Herbert Schaible was trusting in God to heal his child. 
He said while Schaible could have informed authorities or a medical professional that his son was sick, "he felt like any kind of a call was a lack of faith on his part. He felt, I guess, he would be being disloyal to God."

The judge ordered Herbert Schaible to remain in custody while allowing bail for Catherine Shaible, because she poses no threat to flea or danger to her other children, because they are in protective care. The defense argued the evidence suggests Catherine Schaible is less culpable than her husband, because she defers to her husband. As the church pastor put it, women are to be subordinate to men, submissive to their leadership.

Pescatore argued, as a mother, Catherine Schaible is more culpable for watching her second child die and doing nothing.

Herbert said that he had "no regrets" about not seeking medical care.
Re: Philadelphia faith-healing couple accused of murder must stand trial
"April of 2013 wasn't Brandon's time to die. You've killed two of your children. ... Not God. Not your church. Not religious devotion. You."
-- Judge Lerner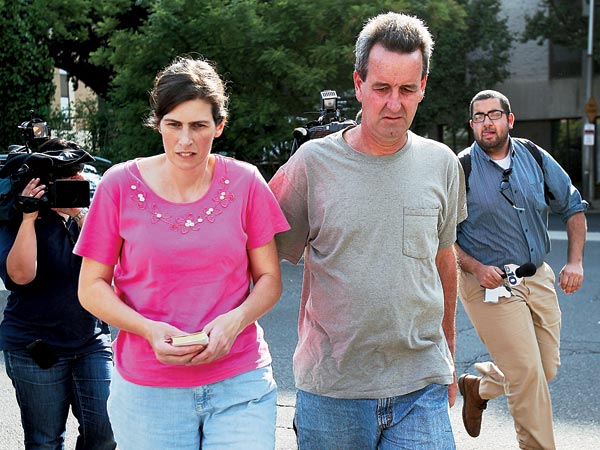 http://www.thv11.com/video/default.aspx?bctid=3232902028001

Pennsylvania couple sent to prison for death of second child
WEDNESDAY FEBRUARY 19, 2014
BY MARYCLAIRE DALE
ASSOCIATED PRESS

PHILADELPHIA   — A couple who believed in faith-healing were sentenced Wednesday to 3½ to seven years in prison in the death of a second child who never saw a doctor despite being stricken with pneumonia. Herbert and Catherine Schaible defied a court order to get medical care for their children after their 2-year-old son, Kent, died in 2009. Instead, they tried to comfort and pray over 8-month-old Brandon last year as he, too, died of treatable pneumonia.

"My religious beliefs are that you should pray, and not have to use medicine. But because it is against the law, then whatever sentence you give me, I will accept," Catherine Schaible, 44, told the judge. She added that her beliefs have since changed.

The Schaibles are third-generation members of an insular Pentecostal community, the First Century Gospel Church in northeast Philadelphia, where they also taught at the church school. They have seven surviving children. Judge Benjamin Lerner rejected defense claims that their religious beliefs "clashed" with the 2011 court order to get annual checkups and call a doctor if a child became ill. The order came after a jury convicted them of involuntary manslaughter in Kent's death, and they were sentenced to 10 years of probation.

"April of 2013 wasn't Brandon's time to die," Lerner said, noting the violence committed throughout human history in the name of religion. "You've killed two of your children. ... Not God. Not your church. Not religious devotion. You."

Experts say about a dozen U.S. children die in faith-healing cases each year. The Schaibles are the rare couple to lose a second child that way. Their pastor, Nelson Clark, blamed Kent's death on a "spiritual lack" in the parents' lives, and insisted they would never seek medical care, even if another child was dying.

"It was so foreseeable to me that this was going to happen," said Assistant District Attorney Joanne Pescatore, who prosecuted both cases. "Everybody in the system failed these children." After the first death, she and public defender Mythri Jayaraman agreed that the couple's beliefs were so ingrained that their children remained at risk. They asked the earlier judge to have the family supervised by a Department of Human Services caseworker. Instead, the judge assigned them to probation officers, who are not trained to monitor children's welfare. Pescatore has called Brandon's symptoms "eerily similar" to Kent's. They included labored breathing and a refusal to eat.
In his police statement last year, Herbert Schaible, 45, said, "We believe in divine healing, that Jesus shed blood for our healing and that he died on the cross to break the devil's power."

The Schaibles pleaded no contest to third-degree murder in Brandon's death, and faced a maximum 20- to 40-year term. Pescatore asked for eight to 16 years, while Jayaraman sought less than two years for Catherine Schaible.
"I didn't know what to do when Brandon was sick, because it was much quicker," said Catherine Schaible, who said he died within a few days. "The D.A. is actually right. I feel like I failed as a mother because they're not alive."

Herbert Schaible has already served about a year, while his wife has been free on bail. A videotape played in court showed her on a weekly supervised visit, when she brought her children their favorite meals, along with games and birthday treats. Six of them are now in foster care, some with relatives. They attend public schools for the first time, and are getting medical, dental and vision care. Several now wear glasses.The oldest child, who is 18, sat in court with his grandparents, the family pastor and other supporters. They listened as Herbert Schaible's lawyer called the patriarch "a good man, a righteous man, a spiritual man.""He's still grieving the loss of his two sons," lawyer Bobby Hoof said.


Re: Philadelphia faith-healing couple accused of murder must stand trial


Kids take precedence over religious beliefs
Op Ed
February 20, 2014

It was a step in the right direction, but still too little and way too late. 

Herbert and Catherine Schaible, who have now killed two of their children by relying on prayer instead of medical care, finally were sentenced to prison Wednesday in Philadelphia for the death of the second youngster. They got 3 1/2 to 7 years behind bars from Judge Benjamin Lerner. It still seems a pretty small price to pay for taking the life of a child, but at least this judge made an effort. 

In 2009, 2-year-old Kent Schaible died of pneumonia because his parents refused to take him to a doctor and instead relied on faith healing. Said Herbert Schaible at the time, "We tried to fight the devil, but in the end, the devil won." 

No, the pneumonia won. It was unopposed. 

The couple's pastor, Nelson Clark, who leads a reclusive Pentecostal community known as First Century Gospel Church in northeast Philadelphia, blamed the Schaibles, not for refusing to take the dying toddler to a doctor, but for a "spiritual lack" in their lives. 

The Schaibles were found guilty of involuntary manslaughter. But despite the facts of the case, despite the lunacy spouted by Herbert Schaible and Nelson Clark, a judge thought it was appropriate to put the Schaibles on probation and let them keep their other eight children. The prosecutor in the case and even the Schaibles' public defender – legitimately worried about the fate of those children – pleaded with the judge to have a Department of Human Services caseworker supervise the family. Instead, the judge put the case in the hands of probation officers who were not trained to monitor child welfare. 

And guess what? Exactly what the prosecutor and public defender feared would happen, happened. Last April, another Schaible child, 8-month-old Brandon, died. Again, it was pneumonia. And again, the Schaibles prayed over him and refused to get appropriate medical treatment. 

The Schaibles pleaded no contest to charges of third-degree murder in the latest case. They could have – and should have, in our opinion – received sentences of 20 to 40 years in prison. Their surviving children are either in foster care or with relatives. 

It was horrible that the first child died in the way he did. It was inexcusable that the Schaibles were allowed to kill a second child. 

"It was so foreseeable to me that this was going to happen," Assistant District Attorney Joanne Pescatore said Wednesday. "Everybody in the system failed these children." She called Brandon Schaible's symptoms "eerily similar" to those of his brother Kent's, including labored breathing and a refusal to eat. One can only imagine the infant's suffering, his fight to survive, before his struggle ended. 

According to an Associated Press report, Judge Lerner made note of the violence committed in the name of religion throughout history and told the Schaibles, "April of 2013 wasn't Brandon's time to die. You've killed two of your children. ... Not God. Not your church. Not religious devotion. You." 

The field of medicine is quite adept at treating common illnesses and preventing them from turning deadly. Prayer alone? That's proven to be a bit of a crapshoot. Some patients will be fortunate enough to get better, but some, very clearly, will die. If Herbert and Catherine Schaible prefer to wither away and perish of a treatable ailment while attempting to conjure divine intervention, that's certainly their choice, but it's not a choice they, or anyone else, can make for a child. For twisted zealots like the Schaibles, the threat of time behind bars can be insufficient to compel rational thought.

What the courts must do is make sure that people like them never get the opportunity to take the life of more than one child.

Copyright 2014 Observer Publishing Company. All rights reserved.

This is a conversation, an open dialogue, in the tradition of Free Speech. The purpose is to promote independent investigation, public debate and dialogue on cult and mind control issues critical to our social and individual well-being. Statements made reflect the writer's opinion. This forum acts to provide a space for electronic medium of information transfer, with the explicit understanding that each user will independently evaluate it and carefully make up his or her own mind as to its factual accuracy and usefulness. Independent individuals, organizations, authors, researchers, academicians and contributors may be exercising constitutional rights of petition, free speech, participation in government, or freedom of religion in researching, evaluating and freely discussing any matter. These discussions or statements may be constitutionally-protected opinions, speculation, allegations, satire, fiction, or religious beliefs or religious opinions of independent individuals, organizations or authors and as such, may or may not be factual.