Just in ~ Apparently they took your advice, Aegonis, and they've been doing a little revamping of appearance for better appeal to the masses. A little aging and a bit of gravitas goes a long way.



Sneak peak! Unreleased new docu-drama not yet uploaded to their website, coming soon. Ben Tinsley's footage provides a new tastes-great/less-filling feature film.
King of White Eagle, King of Green Bat, and King of Gold Lion duke it out over the Sects in "Kung Fu Cult Masters."

Featuring
• Ben Tinsley as "White Devil" !
• unnamed submissive female supporting role as "Queen of Purple Dragon" !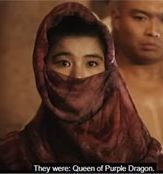 • Directed by Cory McLaughlin
• Executive producer - Cory McLaughlin 
• Screenplay - Sean Morris 
• Score - Dan Pursley
• Finance - Randall Valdez



 
Last edited by Hythlodaeus (9/21/2013 7:38 pm)