More than a year later, still questions unanswered

Daniel Pursley, a well-respected and involved musician for Sagemont Church in Houston, moved his wife and three children to Wells, Texas, when the "Church of Arlington" changed location and became "Church of Wells." He had become very involved with the group through his friendships with the young men founders.

Faith Pursley was the couple's fourth child. She died when she was three days-old, suffering from what an autopsy revealed to be a treatable congenital heart defect. She was a home-birth, without the benefit of a midwife (Dan Pursley claims to have delivered the baby himself), had never been examined by a doctor, and her parents did not seek medical attention for her when the baby was unable to nurse and reportedly may have had symptoms of respiratory distress.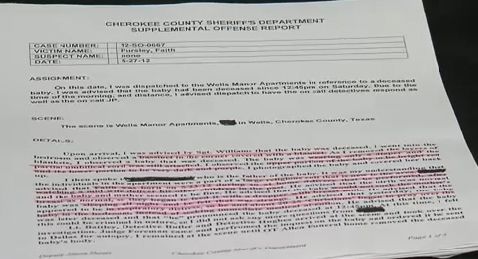 The facts - The baby died on May 26th at 12:45 pm. Authorities were called on May 27th at 4:00 am. When Cherokee County law enforcement responded, they found a number of the "congregation" who wouldn't give their names and each identified themselves as "Christian."

Her father, Daniel Pursley reported to Cherokee County law enforcement that he tried to feed her with an eyedropper, and denies that anything was apparently wrong with her. In his own words:

"Without us realizing what was going on inside her little body, one of her heart valves closed in on her, causing her to slip away from us in a matter of only a few minutes. I was holding her in my hands and tried to revive her, but there was nothing I could do to keep her here."
Daniel Pursley, personal testimony, page 42
What happened after the baby died? They prayed for her resurrection for almost 16 hours.

In Daniel Pursley's own words:

"It was hard to believe that she was really gone, but we knew that there had been those who had "received their dead raised to life again " by faith not only in biblical history but also in extra-biblical church history; and that if God so desired, He could hear our prayers and raise her from the dead as well. So we called on the elders of our church to pray, as we sought the Lord with prayer and fasting as a corporate body. What transpired over the next twelve plus hours became the center of controversy for the small town of Wells, TX and beyond."
•   "...if God so desired, he could hear our prayers and raise her from the dead..."

•   "So we called on the elders of our church to pray..."
 

No one denies this. In a sermon that served as the baby's funeral, Sean Morris said this:

"As to the charge that we sinned as elders or as a church, when that child died, we believed that it was God's will to raise her. We don't think that was a presumptuous thing. We've seen many miracles as a church and as individuals: demons cast out, healings. We weren't just being foolish; we wanted God to be glorified."
"In 2 Chronicles 16:12, King Asa sought not the Lord but the physicians, which means he put the physicians in a preeminent place. We are not against hospitals or the medical field. What we're against is putting any of those things supremely over Christ, not giving him his place as God to heal, or to submit to the leadership of the Holy Ghost. In James 5 and Mark 16, Christ says that it is his will for his people to heal to his glory. Those scriptures have inspired us in the past, and they inspired us in the life of Faith. Sadly, we did not have faith to see the child healed."
Sean Morris
Listen here - http://www.thechurchofwells.com/files/theme/Faith%20Pursley%20Memorial%20Sermon%20060112.mp3


Cherokee County law enforcement has treated this as a politically-sensitive issue of a church's right to religious freedom from the very moment they responded. Officers were quoted in the media the same day, preemptively qualifying it as a protected religious issue. When the elders themselves never offered that excuse.
Even now, the media continues to incorrectly characterize the baby's death as failed faith-healing of a sick baby. Almost as if they're afraid to call it what it really is.

The Church of Wells never claimed they were healing an ailing infant. They never said that; not once. They have been open about their belief that they could make a miracle and return Faith Pursley from the dead.



Captain John Raffield, Cherokee County Sheriff's Office: 
"You have these things around the country, but this is the first time we have had something this serious in Cherokee County that we have had to deal with."

"It's going to be a touchy situation."

 "We don't want to step on churches rights — the line is blurred sometimes between church and state —and you have all kinds of arguments there."

"I'm not sure how this one is gong to run. I know we are going to do what we have to by state law."

"Prenatal care would have saved the baby, (but for) all the women who don't receive prenatal care, are we going to charge them?"

"Then because of how they decided to handle it afterwords, we run into freedom of religion and things of that nature." 

"Ultimately it will be up to the district attorney's office on how he wants to cover it."
No, Captain Raffield, you actually do not run into "freedom of religion" and "things of that nature."
You apply law of the land without personal bias. You seek guidance from the Code of Criminal Procedure and the laws of the State of Texas, and the Texas Health and Human Services System.

May 31, 2012 Officials: Mystery surrounds baby's death. Police say church/state issue 'going to be a touchy situation'
http://jacksonvilleprogress.com/local/x1561297063/Officials-Mystery-surrounds-baby-s-death/print

http://jacksonvilleprogress.com/local/x445551769/Autopsy-reveals-infant-died-of-natural-causes-investigation-ongoing

To be continued.