A new website in the Resolved Graphic Design portfolio:



Company owner: Damien Gloury

Yes, that Damien Gloury...the Australian CoW partners.
Responsible for the Westboro-Baptist-Church-style messages of hatred [yes yes, we know, God hates everyone, fine] to the Australian community, the way Sean Morris and Ryan Ringnald do in Texas.
"Battle at Wollongong"

"A small number of right-wing Christians came out and started waving their flags and getting in people's faces, yelling quite loudly, some of them got in a bit of a fight."

"We would never go to their church and disrupt things the way they did today.

Damien Gloury: "...we do love everybody, it might sound like we're condemning people but we're not, we're just preaching the Bible."
Sydney Morning Herald
But a little strange, the business address is interesting. First, two different towns, but the same street address. Now, that would be a remarkable coincidence!  Is the company in Bomaderry or in Gerringong, 18 miles away? Second, one address is a big empty chunk of land that's for sale. The other is a camper/caravan sales lot:



Kids, your ad copy is terrible! Ya gotta do better than that! It's professionally embarrassing. Poor reflection on the company you're advertising. It tells customers that it's probably second-rate. Clean that up!
...I'm not criticizing or condemning - I'm loving you...

Oh, lookit here. It's been an exceptional "highest quality" business service for ten years, but the only reviews are Church of Wells buddies? The people who did their web design and advertisement? What? 
Do you really think reviews from Texas - the other side of the planet, the northern hemisphere - is good advertising for an Australian cleaning business? Better rethink that...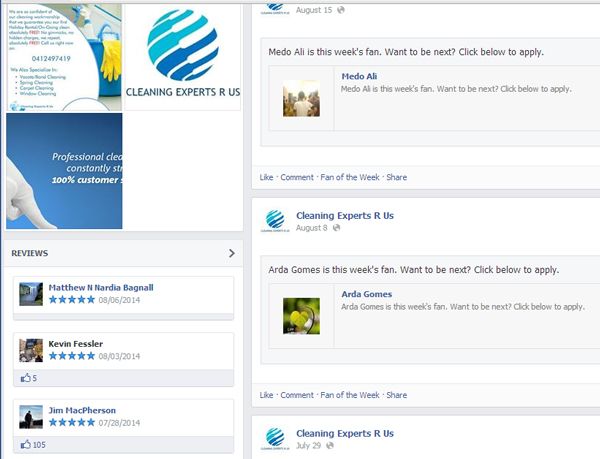 And who are all the "likes" and "Fans of the Week"?
They don't seem to be Australian. Or Texan. Are they customers? How strange...
Medo Ali and Arda Gomes don't even seem to be real people. Huh. Oh wait. I got it. They're phonied up for advertising and marketing purposes! To show traffic when there really isn't any. I get it now! It's a professional marketing strategy. Okay.

But isn't that kind of deceptive and dishonest?