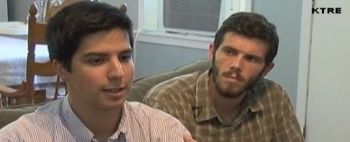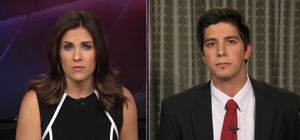 HLN: [On "Doctrine of Judgement"]...it basically says you have to be born again and you have to hate your past life. In order to truly find God you have to actually cut ties with your family and all earthly possessions. So can you understand why this would be devastating to these families who have their children completely cut off from them and not allowed to talk to them?

Jake: Well, that's not true. Um, we do talk in the book "Doctrine of Judgement" about cutting ties. Um, that is when that tie holds your allegiance, so if it's your job, if it's your car, if it's your money, if it's your house, if it's your family, if those things are the things you first of all have your allegiance to, then yes, Jesus Christ says you must cut those things off.

Referring to the Sunday prior to this interview (Sept. 8, 2013)
Jake Gardner: I gave her [Catherine] my own phone, personal phone. She went in the room and talked to them. ...We can clear out my house...Y'all can have the house to yourselves.

We each have our own... bank accounts. Nothing is reckoned all together among us.

HLN: How are you being funded?

Jake: Everything that we have, we have earned by the work of our own hands. We have multiple businesses in the church. ...and God provides very faithfully. God's work done in God's way shall never lack God's provision.


Jake does an interesting thing. He's got a little involuntary twitch he does, when he's slightly annoyed, maybe feeling that he doesn't have the upper hand or is put on the spot. There's an element of clever amusement; gamesmenship. He does it when he's thinking hard how to say something. He reaches up and pinches his nose.