Church of Wells/YMBBA Ministries



» Australian connections

1 2 Jump to
Australian connections
It's not clear if it qualifies as "church planting" if salvation is dependent on joining the group in Wells, Texas. Whatever. The Australian fellowship is growing.
Should Wells township and Cherokee County be prepared for an influx of new recruits? Are they going to need Homeland Security and TSA stationed in Wells to check foreign passports, visas and work permits? Will the Australians qualify for E-3 permits for specialty occupations?
Re: Australian connections
-repost-

Church of Wells seems to have an Australian franchise.

"...my wife and I do joyfully continue to bear the the beloved brethren in Australia. Christ in us loves you guys very much..."

"The saints in Wells do salute in Jesus Christ all the beloved saints in Adelaide and Victor Harbor."
"Though ten thousand's of people have set themselves against me round about with Catherine's parents camping out in an RV next to my house..."
Ten thousands of people? Uh huh.

But I'm wondering if Masao knows who "David Jesusdisciple" is. I hope so. And I hope that Masao is demonstrating genuine Christian values by his acceptance and willingness to let a shemale be Church of Wells "Brethren" on the other side of the planet. That would be refreshing!


"I heard you and brother Ryan were gonna Skype soon Lord willing, praise, the Lord, I am believing and hoping all things..."
I can't help but wonder how this is gonna go over with His Holiness Cardinal Richelieu Sean Morris.

                   ------------------------------------------------------------------------------------------------------------------------------


"David Jesusdisciple," previously known as Danniielle.


Male and Female He Made Them
Kathy Wallace
http://creation.com/male-and-female-he-made-them

During puberty, David experienced an inexplicable intense desire to be female. There ensued an internal struggle for a number of years, yet so committed was David in this endeavour to be female and so certain was he that life would never be right for him if he remained a male, that he took the ultimate steps in attaining his goal of becoming 'female'. Around the age of 30 years, after taking female hormones and living as a female for the requisite two years, he underwent a gender reassignment operation.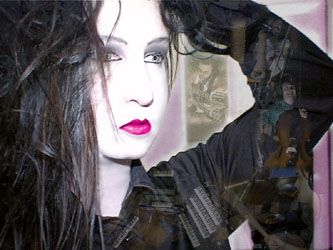 I first met David, who was Danniielle at that time, late one afternoon at the clinic where I work. He explained that he had been born a healthy male and had been through a 'sex change' operation at the age of 30 years, and had been living as a female for several years. This major surgery involved the permanent removal of his male sexual organs and the construction of some female ones. He lived as a female from then on, finding acceptance within the homosexual community, and living as a female in an intimate relationship with another man.
He still felt that he had something missing on the inside. This lifestyle continued for years, until Danniielle came into a relationship with God through Jesus Christ.
An encounter with God rarely leaves a person unchanged, and Danniielle was no exception. Feeling convicted of his sin, he repented and became sensitive and obedient to God's will.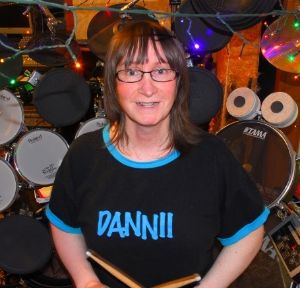 Now, he wanted to return to the gender that he felt God wanted him to be, his birth sex. He wished to resume being a man. He had come to see me in this regard, wanting my assistance in the process to returning to life as a man, as he felt deeply that the Lord's Spirit was persuading him to do this. Thus, our journey together began, seeking the best way forward to regain his lost manhood. How were we going to achieve this?
Naturally, it was going to take a bit of research in order to facilitate the process of reversal of a gender reassignment. There are others who have been strongly committed to a transgender status and lifestyle, to the point of putting their money where their mouth is and enduring gender reassignment surgery, but who have changed their minds later on.
At present, Danniielle, now David, has accepted that which is lost. He sought and has gained his salvation in the Lord Jesus Christ. He leans on the Lord and is willing to serve God as a single man. As this is written, he is undergoing surgery to remove his breast implants, and he will permanently be on a testosterone supplement to ensure he regains and maintains the male characteristics that he had previously worked hard at suppressing for so long. He is a street preacher in Adelaide and a valued member of his church community.




"Fresh and NEW to the web; A short film made by member of Adelaide Street Church, Stefan Kruszewki with his videography skills in July this year 2013. Here is David's amazing story: Born a male he grew up desiring to become a woman. By the age of 30, David had a sex change operation and lived as a woman for nearly a decade until an amazing encounter with God changed everything…"



Beyond fascinating! 
 
Re: Australian connections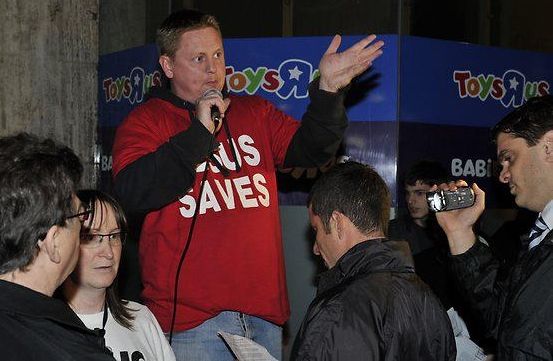 Samuel Corneloup, Danniielle, Damien Gloury, Caleb Courneloup, David Sester, Jesse Chetcuti.

In Australia they're likened to Westboro Baptist Church. Friends of Masao Gonthier with some connection to Holly Pearce. Damien's got Cory McLaughlin art for his Facebook cover. Like Church of Wells, they claim backgrounds of crime, rape, assault, drug use, etc. Oh, and they're meth-heads, too. But they're all good now.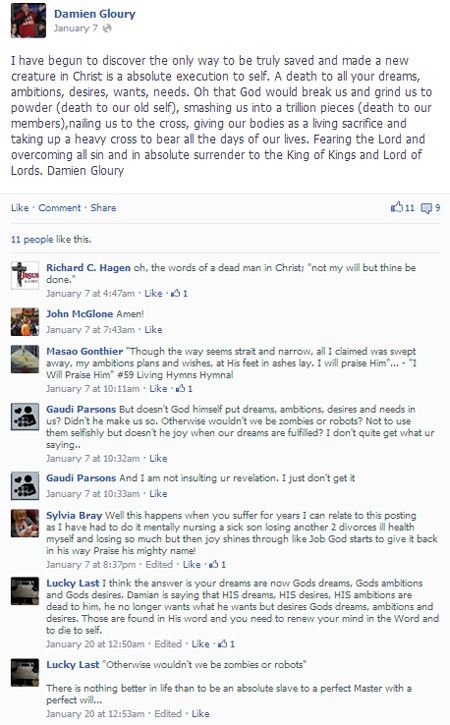 Jesse Chetcuti:

"You know, Jesus said that, you know, if anyone loves his mother and his father or his sister or his brother or whoever more than me, he's not worthy of me."
I always heard that scripture growing up...and suddenly it became real to me...
Re: Australian connections
The Street Church case and free speech in Australia

Thursday 7 March 2013
Damien Carrick


IMAGE: WHILE IN THE US THE COURTS HAVE RULED THAT PREACHERS LIKE THE WESTBORO BAPTIST CHURCH ARE ACTING WITHIN THE LAW, IN AUSTRALIA A SIMILAR GROUP HAS BEEN CHARGED WITH OBSTRUCTING THE STREETS (KEVIN WINTER/GETTY IMAGES)

The Corneloup brothers thought it was their right to invade an Adelaide mall and start preaching their philosophy of Islamophobia and misogyny. But unlike the US, where groups like the Westboro Baptist Church can offend with impunity, they were wrong.In September 2010, The Street Church, founded by brothers Samuel and Caleb Corneloup, started preaching what they considered to be the Word of God in the middle of the Rundle St Mall, Adelaide's major shopping district. The brothers and a small group of followers armed with megaphones, signs, and placards walked up and down the mall, airing their views on religion, sexuality, gender rights, and equality.

Sean Fewster, the chief court reporter for the Adelaide Advertiser and AdelaideNow.com.au, followed the group's growing notoriety.
'Their message was very anti-Muslim, anti-foreigner, anti-woman and anti-gay,' he says. 'They were quite fond of shouting at passers-by that they would be going to hell for whatever they were doing at the moment, be it holding hands or wearing Muslim dress. They talked about foreigners being dirty, they talked about unmarried couples being sinners.'
There is no constitutional right to free speech in Australia, but over the years our courts have developed what's referred to as an implied right to political communication. It was this concept that was at the heart of the High Court case involving the Corneloup brothers.

Shopkeepers and the general public moved quickly to ask Adelaide City Council to evict the fire and brimstone preachers from Rundle St Mall. Police officers tried to break up the Friday night prayer meetings but the preachers would often refuse to go.
Eventually the Adelaide City Council used by-laws, in existence since 2004, that prevent a person from preaching, haranguing, or otherwise tending ministry without first obtaining a permit. The Corneloup brothers decided to challenge these by-laws—a case which went all the way to the High Court of Australia.

Mr Fewster says the pair were self-represented. 'Caleb Corneloup did the majority of the speaking. He was fond of saying that he had only a Year Nine education and yet he was beating QCs at their own game, which he viewed as God taking mercy upon Adelaide by allowing the preachers to continue to spread his word.'
But his luck ran out when the High Court last week ruled against The Street Church. The court stated that even though the council by-law restricted free speech, the council was exercising its powers properly in creating that by-law for public order.

Professor Adrienne Stone, the director of the Centre for Comparative Constitutional Law at the University of Melbourne, puts it this way: 'The purpose of this law was to prevent obstruction—to protect the safe and convenient use of the streets, in this case the Adelaide Mall. And the judges took the view that this is a reasonable and legitimate reason to limit freedom of political communication.'

Last week the High Court ruled on another important freedom of speech case that also involved a potent mix of religion and politics—and shows the relative weakness of the implied common law right to political communication in Australia compared to other jurisdictions like the US.
Radical Muslim cleric, Sheik Man Haron Monis, wrote offensive letters to the families of Australian soldiers who died in Afghanistan. The letters started with condolences for the loss of a son, including phrases like 'May God grant you patience and to guide us all on the right path.' But they then went on to brand dead soldiers as murderers of civilians, comparing them to pigs and to Hitler.
Sheik Monis was charged under a provision of the Commonwealth criminal code which makes it an offence to use the postal service in a way that is offensive, harassing, or menacing.  Sheik Monis responded by arguing that the prosecution could not proceed because the laws impinged on his implied right to political communication.
But unlike the Adelaide case, the result was somewhat inconclusive, because the court split evenly down the middle. Normally there are seven judges, but during the window in which these cases were heard, a judge had retired without yet being replaced. 
All six judges accepted that the letters amounted to political communication, because the letters discussed Australia's military involvement in Afghanistan. But the court split 3–3 on whether or not the offences were a reasonable limit on the right to political communication.
Three judges—Chief Justice  French, and Justices Hayne and Heydon— took the view this wasn't a reasonable limitation, finding that the prevention of offence is not a legitimate end to which the parliament can direct laws. Justice Hayne said: 'History, not only recent history, teaches us that abuse and invective are an inevitable part of political discourse.'

Professor Stone says these three judges feel strongly that political communication in Australia should be robust and vigorous, 'to the point that it may be offensive, even very offensive, but that just is our tradition—offensiveness (by itself) can never be a good enough reason to regulate freedom of political communication.'
But Justices Crennan, Kiefel and Bell took the opposite line. They found that the threshold for offence in the postal law is suitably high. It doesn't apply just to the merely offensive, only to the very offensive material. They also found that because the letter was delivered to the house of the victim, this amounted to an intrusion into a private space. In their view, it is legitimate for the parliament to pass a law that seeks to prevent us from receiving extremely insulting material through the mail into our homes.
Because the court split down the middle, the decision of the lower court allowing the prosecutions against Sheik Monis stands. His trial will proceed.

So where do these important freedom of expression cases leave us? Professor Stone says it's now clear that laws designed to prevent the obstruction of traffic and the safe and convenient use of the roads are constitutional. A law that pursues those sorts of goals can limit freedom of political communication, as long as it limits it in a reasonably proportionate kind of a way.
'What is much less clear is a law whose very object is to prevent offence, even very severe offence,' Professor Stone says. 'On that question in the Monis case you see that the High Court was divided right down the middle.'

If these two cases had been heard by the US Supreme Court it is almost certain that the Corneloup brothers and Sheik Monis would have won. In 2011 there was a decision with clear parallels to the two Australian cases. The court upheld the right of the Westboro Baptist Church to demonstrate outside the funerals of US soldiers killed in Afghanistan and Iraq. The church believes that the US's tolerance of homosexuals angered God and in response He allowed US soldiers to die on the battlefield.
Mr Snyder, the father of a dead soldier, commenced a legal action arguing that the interruption of his son's funeral caused him emotional distress. He won  $5 million in damages but the US Supreme Court overturned this ruling.

Professor Stone says in the US speech is almost invariably protected. The First Amendment, the right to free speech, shows a very high degree of tolerance for even the most offensive kinds of speech.
'Although the United States Supreme Court was absolutely clear it thought that this was terrible and worthless expression, it nonetheless protected it as freedom of speech on a public matter in a public place,' she says.

Back in Australia it is unclear how the law will evolve when faced with highly offensive speech. Professor Stone says the Monis decision leaves us 'on a knife's edge'. Since the case two new judges have been appointed to the High Court and there is no way of knowing on what side of the line they would fall.

http://www.abc.net.au/radionational/programs/lawreport/freedom-of-speech-in-australia/4557962
Re: Australian connections
Then there's the new guy...Matthew Bagnall. He used to be a surfer, but now he's a Remnant or a Servant of the Lord or something-or-other. Matthew's got his own very cool gig, his own ocean-front church, Eternal Light Ministries, in an outbuilding on his property in Kiama, Australia.
Kiama is a wonderful place in New South Wales, just south of Sydney. I sure hope Matthew takes a look at Wells, Texas before uprooting his family. Not a lot of ocean and surfing.

Now here's where it gets interesting - Matthew is a devotee of a self-styled "pastor" and demon exorciser, Benjamin Patrick. Benjamin Patrick is lucky enough to be one of the few to actually come back from the dead. Apparently Ben contracted tetanus, died, stayed dead for several days, and woke up in a mortuary. He's gained quite a following. And a fair bit of money, too. He travels around the world with his brother Jonathon, telling his miraculaous story.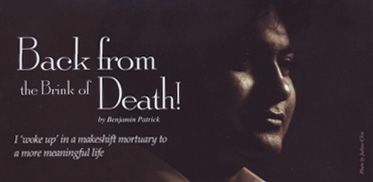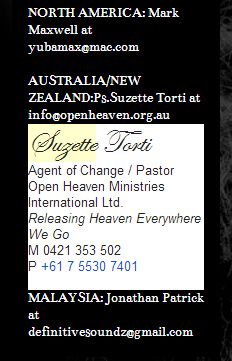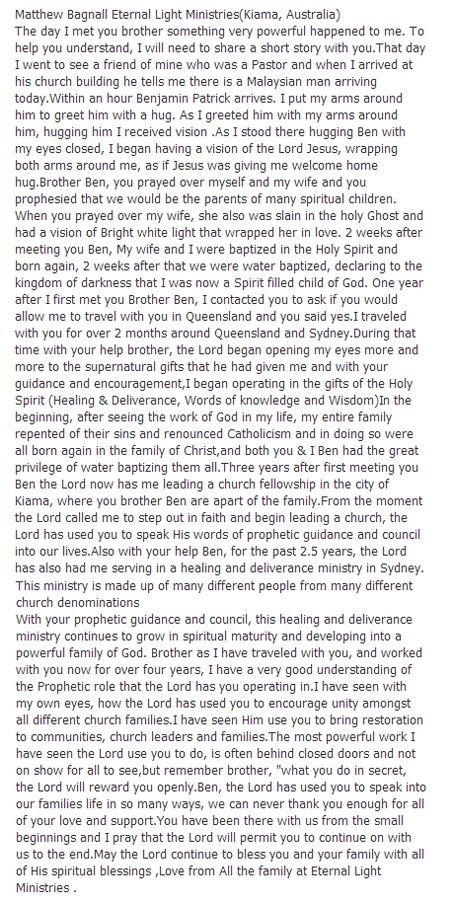 Ben has a comrade and traveling partner, Pastor Stephen Jayaraj. Together they are healers and divine interventionists. 
http://www.pastorstephenhealingministry.com/link3.php



They solicit donations to support orphanages in India.





Then it gets even more interesting.  On Pastor Benjamin's website, there's a testimonial for him by "Agent of Change"/Pastor Suzette Torti, of Gold Coast Australia.




Huh. Pastor Benjamin's Australia/New Zealand management is also someone named Suzette Torti, Open Heaven Ministries International Ltd. (see above).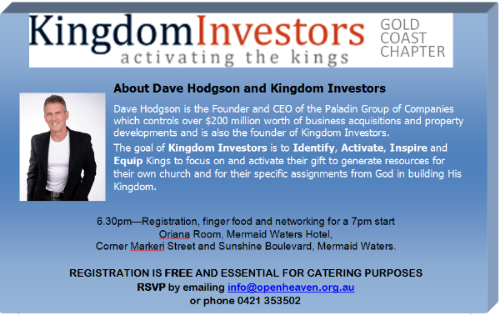 "This is a legitimate marketplace ministry...'spiritual teaching' from the marketplace...we should never run out of cash flow."



Woowww...

 
Re: Australian connections
More from Australia.
The Corneloup brothers. An analysis of Church of Wells' "Damnable Doctrine." Worth watching.

Mar 25, 2014 - Church of Wells Heresy's brought to the light. This video is about a conversation, which was recorded, between StreetChurch and the Church of Wells.


Re: Australian connections
The next recruit from StreetChurch in Adelaide, Australia, appears to be making the jump to the Texas Boys. Looks like David/Danni is joining the Sesters and Damien Gloury in Wells, Texas.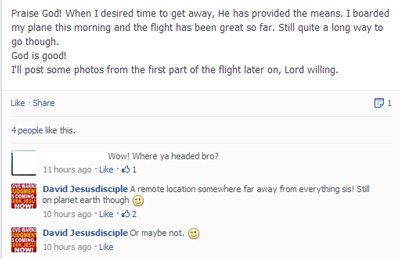 Like the rest of Church of Wells recruits, he severs contact with everyone he knows and abandons everything -  his church and the others in it, his street-preaching group, his music business.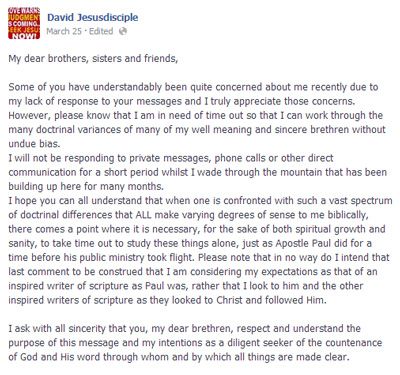 The other Australian now in Wells recently switched his Facebook header to one of Cory McLaughlin's gruesome 'suffering Christian' art work.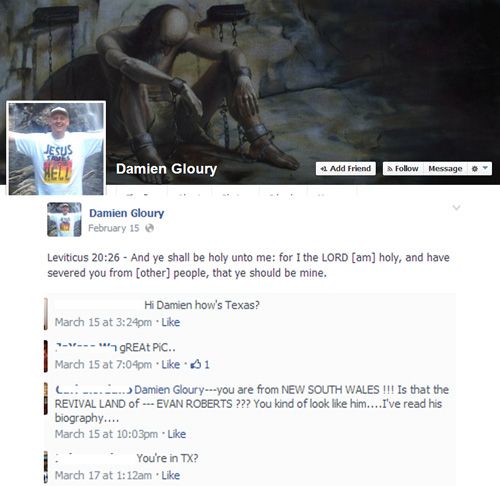 Like the families and friends around the United States, people in Australia are worried about them, angry, dealing with the natural feelings that stem from rejection and abandonment. 
More than anything, obviously wondering why it's necessary to take such dramatic action to find God.




And of course, the typical chaos that Sean Morris, Jake Gardner, Ryan Ringnald and their lieutenants create everywhere they go and the interpersonal storms they whip up in the name of superior spirituality.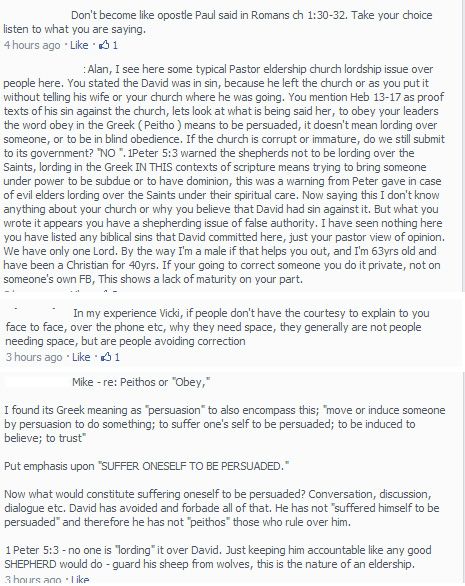 It's a bit sad; as a transgender, David/Danni found unconditional acceptance with his church. That's no small thing. 
One wonders if he will be able to access his necessary medical care, treatments, hormone therapy, surgeries, in Wells, Texas. Or will CoW restrict him from conventional medicine and instead rely on prayer and faith? That will be interesting for God. I wonder how often He's been called on to "heal" biological gender transition? 
I suspect this "church" will never let this man be free of his sins. 

Re: Australian connections
And he's outta there...



http://faith.boardhost.com/viewtopic.php?pid=3480#p3480

May this man find what he needs, one way or the other. Either a quick 'experiential' lesson of the value of dedicated invested relationships and loyalty in what he left behind. Or acceptance by the new religious movement, Church of Wells. 

May the Texas Boys have the wisdom to accept him as he is, without holding his feet to the fire for the rest of his life. And not hurt and punish this person more than he's already been.

Re: Australian connections
An appeal to the latest CoW recruit from his church and support group. Whatever their philosophies and doctrine, they have the guts to say what they think. I respect that. And whatever their churchy stuff is, they care that one of their group is falling in with the Texas Boys. 






This is about Matthew and Faith International, described in a previous post.  A "specialist" in exorcism and a follower of the Faith International team.         http://faith.boardhost.com/viewtopic.php?pid=3435#p3435   





There are people who never find what they need. Never comfortable in their own skin. Lost and looking for something to fill the void. No matter what they have, it's just never enough. Spiritually lonely. Able to bail and move on to something else, leaving a mess behind.
Men do this; women do this. This isn't about God and religion - this is a human condition. This is about acceptance and love and feeling it.

1 2 Jump to

» Australian connections

©2012-2018 all rights reserved.

This is a conversation, an open dialogue, in the tradition of Free Speech. The purpose is to promote independent investigation, public debate and dialogue on cult and mind control issues critical to our social and individual well-being. Statements made reflect the writer's opinion. This forum acts to provide a space for electronic medium of information transfer, with the explicit understanding that each user will independently evaluate it and carefully make up his or her own mind as to its factual accuracy and usefulness. Independent individuals, organizations, authors, researchers, academicians and contributors may be exercising constitutional rights of petition, free speech, participation in government, or freedom of religion in researching, evaluating and freely discussing any matter. These discussions or statements may be constitutionally-protected opinions, speculation, allegations, satire, fiction, or religious beliefs or religious opinions of independent individuals, organizations or authors and as such, may or may not be factual.