Church of Wells/YMBBA Ministries



» Old and new

1 2 Jump to
Member

Offline
Re: Old and new
Wow...I know exactly where that came from and I don't believe her husband was, is or will ever be an elder.
Re: Old and new
Well, none of them are "Elders" in any church or convention except self-identified.
Member

Offline
Re: Old and new
Troy states that "every man is a liar". That must include Sean, Jake, Ryan...

Hahaha....
Member

Offline
Re: Old and new
Kjdean49 wrote:

Troy states that "every man is a liar". That must include Sean, Jake, Ryan...

Hahaha....
True KJ but one must remember...Sean Jake and Ryan are not merely men....they are men of God...phrophets if you will.
Member

Offline
Re: Old and new
Kjdean49 wrote:

Troy states that "every man is a liar". That must include Sean, Jake, Ryan...

Hahaha....
 TRUTH.
Re: Old and new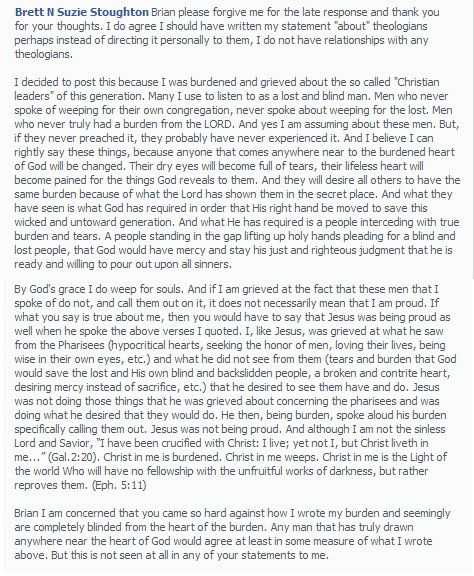 A very young man is 
• Burdened and grieved about the Christian leaders of this generation.
• Men who never truly had a burden from the Lord. 
• He is, like Jesus, grieved at what he saw from the Pharisees. [I believe he means this as himself, not Jesus. He's mixed his pronouns from 'I' to 'he'.]

 Although I am not the sinless Lord and Savior, "I have been crucified with Christ: I live; yet not I, but Christ liveth in me..." Christ in me is burdened. Christ in me weeps. Christ in me is the Light of the world Who will have no fellowship with the unfruitful works of darkness, but rather reproves them."
No arrogance, there, huh? 

Galatians 2 is the apostle Paul talking to Cephas, a Jew. Ephesians 5 is Paul's letter to the people of Ephesus; probably sent from Rome in 62 or 63 A.D. Next to Rome, Ephesus was the most important city visited by Paul. It may have been written as a circular letter to be sent in turn to several churches of which the church at Ephesus was one. Here's the entire chapter and context.

Follow God's example, therefore, as dearly loved children and walk in the way of love, just as Christ loved us and gave himself up for us as a fragrant offering and sacrifice to God. But among you there must not be even a hint of sexual immorality, or of any kind of impurity, or of greed, because these are improper for God's holy people. Nor should there be obscenity, foolish talk or coarse joking, which are out of place, but rather thanksgiving. For of this you can be sure: No immoral, impure or greedy person—such a person is an idolater—has any inheritance in the kingdom of Christ and of God. Let no one deceive you with empty words, for because of such things God's wrath comes on those who are disobedient. Therefore do not be partners with them. For you were once darkness, but now you are light in the Lord. Live as children of light (for the fruit of the light consists in all goodness, righteousness and truth) and find out what pleases the Lord. Have nothing to do with the fruitless deeds of darkness, but rather expose them. It is shameful even to mention what the disobedient do in secret. But everything exposed by the light becomes visible—and everything that is illuminated becomes a light. This is why it is said:
"Wake up, sleeper,
rise from the dead,
and Christ will shine on you."
Be very careful, then, how you live—not as unwise but as wise, making the most of every opportunity, because the days are evil. Therefore do not be foolish, but understand what the Lord's will is. Do not get drunk on wine, which leads to debauchery. Instead, be filled with the Spirit, speaking to one another with psalms, hymns, and songs from the Spirit. Sing and make music from your heart to the Lord, always giving thanks to God the Father for everything, in the name of our Lord Jesus Christ.
Obviously, it's about impropriety and hedonistic behaviour. It doesn't say everyone in the world is horrible except for the Church of Wells.
Re: Old and new
Cory. The angstful artiste. Seems he sold his mother a little short in his brutal eye-watering testimony. He should be thanking her for her gifts that make him what he is.



Is this Cory's photograph? Or his mother's?


LOWER GALLERY, CONTEMPORARY ARTS MUSEUM
PHOTOGRAPHY: SHOT IN TEXAS
On View: May 17 – June 13, 1975
Artists featured in the exhibition:  Rae Amey, Dan Barsotti, Gay Block, Michelle Campbell, John Dougherty, Carl Finch, Bert Finger, John Grossman, Margaret Harmon, Bill Kerr, Don Netzer, David Adams Pond-Smith, Michael Puig, Lou Anne Pulliam, Bill Records, Jim Thomas, Bob Wade, Geoff Winningham, Garry Winogrand, Peter Yenne, and Raymond Yin.​



Her collection is at the Briscoe Center for American History.
A Guide to the Louanne Pulliam Photographs, ca. 1970-1980. Houston images feature a number of cafe and stadium concerts with musicians such as Michael Murphy, Boz Scaggs, Stephen Stills, David Crosby and the Beach Boys. Austin-area photographs of a Willie Nelson picnic feature Willie Nelson and Leon Russell.




THAT. IS. PURE. AWESOME.

I would be so proud that this woman was my mother. In his poorly-written testimony, Cory makes his mother out to be some pathetic poverty-stricken single mom that didn't take very good care of him.

My parents divorced shortly after I was born, so I grew up for the most part with my mother in San Antonio TX, where I lived for 9 years.  Being that my mother was a single mom, we grew up pretty poor. 
She loved me, but could not seem to control my rebellious nature; my father lived in another city so I didn't have any real immediate disciplinary influence in my life as a child. We always seemed to live pretty simply, that is to say we didn't have much, at least that was the idea I got, so I spent most of my time outside on the streets getting into trouble.
...
I had no discipleship, no fellowship, nothing. So I didn't know that what I was doing was wrong, though I had stopped some things, I had not given up all things. So I graduated from college after a long year of many trials and much travail, I went straight into becoming a professional artist. I began painting for some of my family and their friends who were all pretty rich people up in Austin, Texas; painting art on their walls and so forth. I would live with them while I painted and became engrossed by their way of life, and was making great money myself; it was like one big party. But the Lord was not pleased with my actions, so in His mercy He took everything I had, I lost it all, there were no more rich clients, they all cancelled on me, there was no more money, I had only a truck payment to show for my life at the moment. So I moved in with my grandparents back in Houston, my dad was opposed to letting me stay with him and my mom didn't have room.
Shame on you, Cory. I have no doubt that your mother continues to support your artistic endeavours, even now.

He has a very high opinion of his own work, which is super important and inspired by God, of course.

When viewing this work I ask only one thing, that you take it for what it says.  In other words I am conveying objective biblical truths, these ideas are not based on my opinion, but upon the truth of the Word of God.  They are not meant to be taken relatively but with the idea that truth is truth whether you believe it to be so or not.  Relative thought and post-modern theory have plagued this generation of thinkers and the modern church as well, so in an attempt to make us aware that absolute truth still exists whether we like it or believe it, I have ventured to paint this body of work.  Also understand that these paintings were painted through much prayer and fasting, with the guidance of the Holy Spirit of God.  I give all the honor and Glory to my Lord Jesus Christ, the King of kings!  These are His paintings not mine, He died for me, all I can do in return is give Him my life and everything therein.  My prayer through these paintings is to edify the church and to draw sinners to Jesus; nothing else is worth living for.
Please. Get over yourself.
Re: Old and new
"The Lord Jesus does not pray for the world neither does he here there prayers"

"To study the scriptures is one thing to love the Lord of the scriptures is quite another Watchman Nee"

"The church is so special that it cannot be joined. The determining factor is whether one is born of God. If one is born of God, he is already in; if he is not born of God, there is no way to join. ~Watchman Nee"

                                                                                                                      --Troy Dannenberger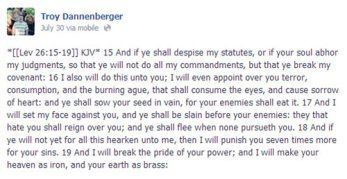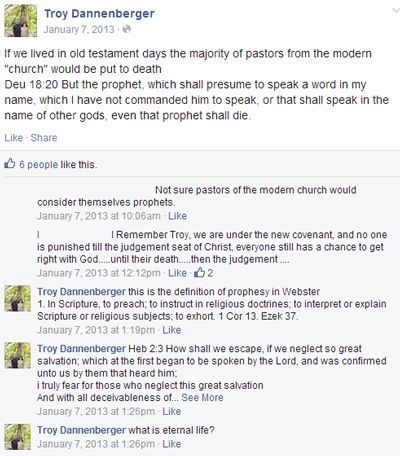 This guy is really quite rough around the edges. But he's had a rough go at life, according to his testimony, so not unpredictable. He's apparently found his niche, where his personality and upbringing are assets. Where he is rewarded for being offensive and harsh and intimidating.
Single-woman recruit Michelle McCloud was lucky to nab him. Although it doesn't look like the three years in this group has been kind to her. Her early indoctrination to this group and Sean Morris's spiritual power was with Faith's death. She was there.





When single women join the group, they get absorbed and become difficult to track. Following a pattern of all the women (probably at the direction of the elders), she gradually dropped friends and family off of her Facebook account, replacing them with only Church of Wells members. Then the account went dormant. When she reemerged, it was only as an extension of husband Troy. They become nameless and without identity. Her family might not even know she's there. 

When she was newly engaged in December 2012, someone reached out to her. Her response: "...speaking against God's will."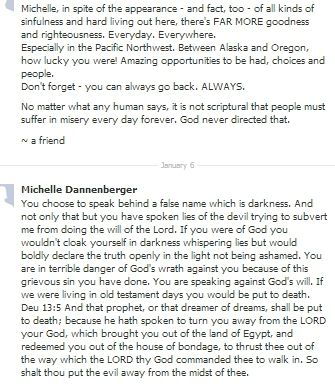 I don't think she wrote that - I think he did.

1 2 Jump to

» Old and new

©2012-2018 all rights reserved.

This is a conversation, an open dialogue, in the tradition of Free Speech. The purpose is to promote independent investigation, public debate and dialogue on cult and mind control issues critical to our social and individual well-being. Statements made reflect the writer's opinion. This forum acts to provide a space for electronic medium of information transfer, with the explicit understanding that each user will independently evaluate it and carefully make up his or her own mind as to its factual accuracy and usefulness. Independent individuals, organizations, authors, researchers, academicians and contributors may be exercising constitutional rights of petition, free speech, participation in government, or freedom of religion in researching, evaluating and freely discussing any matter. These discussions or statements may be constitutionally-protected opinions, speculation, allegations, satire, fiction, or religious beliefs or religious opinions of independent individuals, organizations or authors and as such, may or may not be factual.