Church of Wells/YMBBA Ministries
Re: What other spiritual leaders/pastors have to say
Dear Chris Faulkner, Moses and Anand David, and others:

I understand that you believe with all your heart. I understand that you are genuine.

Please - stop speaking archaic Puritan English. It's too much. It's pretentious and screams 'phony!' It does not make you sound more learned and wise, more knowledgeable about God, holy, Biblical or superior. It does not make you sound better or more reliable. It does not lend weight and gravitas to your words.

It's a device and a vanity. Ask yourself why. Too much frosting on top doesn't improve cake; it's usually an attempt to disguise inferior cake. Your words and actions will speak for themselves.

Please remember that in Old Testament times - Ancient Egypt, Jordan and Mesopotamia - they spoke Greek, Hebrew, Latin, and Arabic languages. When the King James version of the Bible was translated, the scribes spoke those languages. The society spoke English. The English of the day. Common English, for them. 

The vernacular of the Puritans and Reformationists was the regular common style of speech of that time. A regular common language they communicated in. Charles Spurgeon and other Victorian-era English preachers spoke and wrote in the common English of their day. That's how they actually conversed. The same speech style as everyone else. Understood by their peers and general society.

It IS Godly for you to speak in contemporary language. THEY did. Why not you?
Re: What other spiritual leaders/pastors have to say
Sean Morris and Jake Gardner respond to Paul Washer and Marc Glass.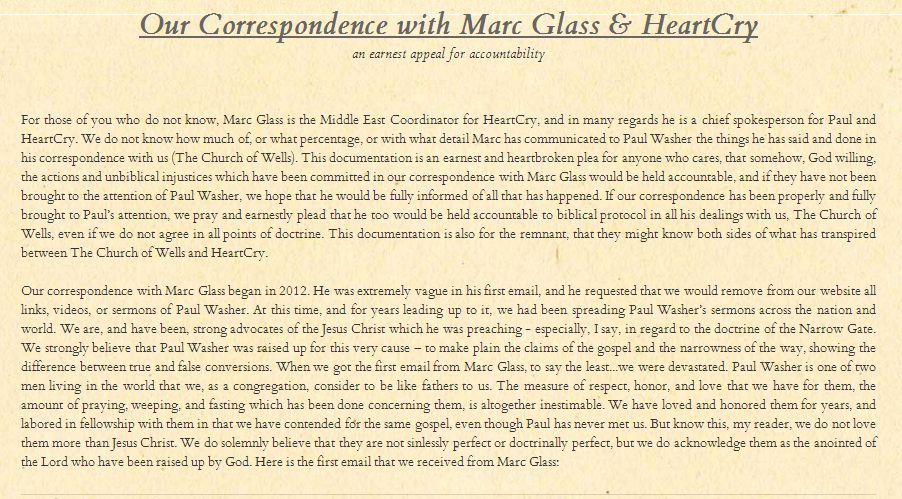 Re: What other spiritual leaders/pastors have to say
Part 1 of 2 the email exchange.

July 17, 2012 
To Sean Morris, Jacob Gardner, and Ryan Ringnald:

I hope this email finds you and your congregation prospering in the Lord.  I am writing you both with a request and with an appeal.

First, I was informed about you and your congregation last week through a partner of HeartCry's living in Israel.  This pastor has a congregant with close friends in the U.S. who has a son in your congregation.  With both the information this man gave me and what I've been able to read on the internet, I'm sorry to say, but I have been very disturbed.  Let me be frank: it appears from every possible indicator that you are leading your group down a dangerous and destructive path characterized by cult-like practices.

Second, you may be asking, "What does this concern you?"  Here is my request: As soon as possible, please remove any mention of Paul Washer or HeartCry's name, as well as any link to sermons, from your websites, blogs, Facebook pages, etc.  Paul nor HeartCry wish to be connected to your congregation in any way.

Last, my appeal: The course that you leaders have charted for the people under your care is one that does not have a good ending.  Are you familiar with the Scriptures?  Have you seen the warnings that are there?  Are you familiar with history?  Have you seen how these warnings have come to fruition in the lives of countless people and groups?  Are you familiar with yourselves?  Do you understand the propensity of the human heart and mind to be blinded with spiritual pride?  I don't know any of you personally, nor have I ever met you.  However, I do know that we can tell a great deal about what's going on inside of a person's heart by looking at the fruit that comes forth from their life.  The negative effects that your ministry has had on numerous people speaks very clearly from my outside perspective about what kind of fruit your lives are producing. 

May the Lord give you grace,

Marc Glass
Coordinator for the Middle East and Africa
July 20, 2012  
Hello,
I wanted to follow up on the last email I sent, as I haven't heard back from any of you.  I have also looked on your website and the link to Paul Washer is still up.  
Please make this easy on all of us and remove the link(s) as quickly as possible.

Marc Glass
Coordinator for the Middle East and Africa
 From Sean Morris, July 23, 2012

Dear Marc and Paul,

It is with great sorrow and tears that we have received your email. Words cannot express the love and high regard that we hold (personally and corporately) towards Paul Washer. We do greatly esteem the work that God has allowed him to do. In honor and regard to him, and his ministry, I do recognize you as a brother and call you such by the commendation (2 Cor. 3:1) of your participation and authority in his ministry (though we do not use this term carelessly, see 1 John 4:1). In this way we are seeking to "hope all things" (1 Cor. 13:7), but Brother Marc, are you?

As I gathered from what you said – You have heard from a Pastor who heard from a congregant, whose congregant heard from close friends, and then, you heard from internet sources? My dear friend, if I were in your position and I was looking for the proof that we are legitimate "pastors" or leaders of a true congregation, and in so doing I chose to examine the internet sources available that have recently arisen against us and our ministry/church, I would be "very disturbed" as well. We are greatly disturbed by these things ourselves. We are often overcome with astonishment at the lies which are propagated online, and the hand in hand multitude which do fiercely press forward. 

We ourselves have to remind ourselves of the suffering that the New Testament Churches underwent, as well as that which those honorable men of extra-biblical Church history underwent. I think of Paul where he, as the foremost proof that his ministry is of Christ, testified that he suffered aggressive persecutions in every form – He was, as he put it, "troubled on every side" (2 Cor. 4:8) and "always bearing about in the body the dying of the Lord Jesus" (2 Cor. 4:10). To "approve" himself and those with him "as the ministers of God," he did give an account of and show all of his sufferings (2 Cor. 6:3-10, 11:23-33, 4:8-18, 1 Cor. 4:8-17), speaking of these things that they legitimize rather than disannul his validity. If I looked on the internet without this in my mind I would cave into unrighteous depression. Likewise, Marc, I am afraid you have looked online without keeping this and other principles in mind (please correct me if I am wrong). Please hear me out.

Think of the Lord Jesus. He experienced the hatred and slanders of men, so much so, that he was called a drunkard, devil, blasphemer, and sinner. Yet, He declared that this was a blessing if His servants followed in His footsteps, and He promised that they would (Lk. 6:40, John 15:18-22, 1 John 3:1). Jesus was accused of being nothing more than a cult (Acts 5:33-41), and likewise the apostles bore the same reproach and accusation (Acts 24:5, 28:22). Jesus said that the righteous would undergo the specific suffering of false slanders and evil reports. He said that the overwhelming public would respond to Christ in Christians by "reviling," "persecuting," and saying "all manner of evil against [them] falsely for My sake" (Matt. 5:11). Surely, the internet is full of persons who are saying all manner of evil against us falsely, but we praise God it is false. 

Marc, what have you read and heard? What cult-like practices are you talking about? Who is the son in our congregation and what are the parent's complaints? Please don't excommunicate us based upon the reports of men and women on the internet that you don't know, whose lives and fruits you don't know, therefore whose testimonies you ought not to believe. Surely, two or three witnesses ought to be a trustworthy report (1 Tim. 5:19, 2 Cor. 13:1), and there is more than that gathered together on the internet, but if those witnesses be unsaved men and women they cannot be trusted. There were two or three witnesses against Christ when he went before the Sanhedrin, yet their witness was false. You/we must find witnesses which can be trusted, verified to be honest, from well saved men (who also are not deceived), lest Satan get an advantage of God's children and we end up casting out our own brethren, and therein is the terrifying warning - "inasmuch as ye have done it unto one of the least of these my brethren, ye have done it unto Me" (Matt. 25:40). As Jesus said to Saul, "Why persecutest thou Me" (Acts 9:4)? As for the parents of this young man who is in our congregation, should this young man's behavior be the litmus test of the whole church? Should the discernment of the parents be trusted even if we (you or I) do not know them personally and have not thoroughly examined all things? We must use carefulness whenever a report of sin or a possibility of excommunication does arise in Israel, especially in the day we live in, this crooked generation where goats and false converts have surrounded most all of the remnant that is left. Unsaved men in this manner do craftily create confusion to suffocate the truth.  

We have obeyed your request, though with much lamentation, weeping, and fasting, and have removed the link to Paul and HeartCry from our website, but is it right that you excommunicate us by these reports and yet you have not even spoken to us? You asked us many questions in the appeal section of your first email, but I don't even know what behavior you are addressing that is cult-like, so all the following questions only provoke me to wonder what you have heard or are believing concerning us. We do read scripture and love it. We do desire to and carefully study the warnings written therein. We do fear pride and constantly seek to humble ourselves in all ways we know we ought. We love extra-biblical Church history and constantly solace ourselves with peace because of their testimony, lives, preaching, and writing. For many years we have found true, godly, and spiritual fellowship in the pages of it extra-biblical Church history, and we find courage to fight in our day seeing clearly the same battles in their day. 

I think of John Bunyan when, as he said, Satan did use men to "load me with slanders and reproaches." He said that these slanders were "whirled up and down the country against me." It was said that John "was a witch, a Jesuit, a highwayman, and the like." Also, John wrote, "that which was reported with the boldest confidence, was, that I had a misses, my whores, my bastards, yes, two wives at once, and the like. Now these slanders (with the other) I glory in, because but slanders, foolish, or knavish lies, and falsehoods cast upon me by the devil and his seed; and should I not be dealt with thus wickedly by the world, I should want one sign of a saint, and child of God." (Grace Abounding to the Chief of Sinners)

I think of C.H. Spurgeon when he was lonely and maligned during the downgrade controversy. I think of the words that he wrote while commenting on Psalm 7:1-2 in the Treasury of David, "the wounds of a sword will heal, but the wounds of the tongue cut deeper than the flesh, and are not soon cured. Slander leaves a slur, even if it be wholly disproved. Common fame, although notoriously a common liar, has very many believers. Once let an ill word get into men's mouths, and it is not easy to get it fully out again. The Italians say that good repute is like the cypress, once cut, it never puts forth leaf again; this is not true if our character be cut by a stranger's hand, but even then it will not soon regain its former verdure. Oh, 'tis a meanness most detestable to stab a good man in his reputation, but diabolical hatred observes no nobility in its mode of warfare. We must be ready for this trial, for it will surely come upon us. If God was slandered in Eden, we shall surely be maligned in this land of sinners. Gird up your loins, ye children of the resurrection, for this fiery trial awaits you all." And again at another time, Spurgeon said, "When we are slandered it is a joy that the Lord knows us, and cannot be made to doubt our uprightness he will not hear the lie against us, but he will hear our prayer against the lie." 

I think of James Renwick and Alexander Peden, two of the faithful and beloved Scottish Covenanters. Alexander, called "the prophet of the Covenant" was a dear man of God, however, he eventually forsook James Renwick, called "The Last Scottish Martyr." Yet, before Peden's death he was reconciled to Renwick. Why was James forsaken? The lies were so numerous and reputed, Peden was beguiled to believe their report. Here is the event of their reconciliation just before Peden died:
[Note: passage from "Defamation and Persecution From the Regenerate" by Sean Morris cut for brevity. Misquoted from page 107, Peden's Life, "Six Saints of the Covenant". 1901, London. For more on this story from credible historical sources, http://www.reformation-scotland.org.uk/scots-worthies/alexander-peden]

And now I think of (from biblical history) the apostle Paul, who, was so aggressively surrounded by slanders and persecutions that even the regenerated Church in Jerusalem would not receive him as a brother, only James (the apostle) with all the elders did received him. As for all the younger's, those thousands of converts, they all were ready to reject their brother, and not only a brother but the apostle Paul himself. And why? Paul was so slandered that they did not, and could not believe he was a brother, and this was in an age when there was not internet, when things passed by word of mouth and report given by honest and dishonest men. These reports spread to the beguiling of men like this Pastor in Israel that you spoke of, and his congregants, and their close friends. In Jerusalem, like it was elsewhere, there were so many deceived concerning Paul that the whole multitude that believed (or where regenerate), they were deceived to think Paul was a false prophet, and worthy of rejection – And their folly was that they "answered a matter before" they heard it which is a shame (Prov. 18:13).

When slander so grievously surrounds a true convert, a fellow elder, a ministry, or a work of God wrought amongst a people, it was then that the New Testament gave personal audience to those or that individual who was slandered that they might be sure to know if it is of God or not. You can see this when Paul was given personal audience by James and the elders at Jerusalem. In this audience, Paul "declared particularly what things God had wrought among the Gentiles by his ministry. And when they heard it, they glorified the Lord" (Acts 21:19-20). Though all the brethren were falsely "informed" by the multitudes which did slander, the elders and James gave a personal audience to Paul as he declared what God really did, and they, perceiving the grace of God and the assurance of the Holy Ghost with Paul and his testimony, declared him righteous and received him. Marc this is all we ask with you, Paul, and HeartCry. We ask for a personal audience before you reject us, excommunicate us, considering that, like Paul's day, even the regenerate can be deceived so as to reject a true brother or ministry by lying and slander. 

This same principle can be seen again in Acts 15:12 in the midst of impending division. It was then that the whole multitude of elders and apostles gave audience to Paul and Barnabas. In this way, by personal audience, they would know for certain if these things are of God or not. God used the personal testimony of them that stood accused, that those who stood to judge might properly try and find the truth (1 John 4:1). This is written in Acts 15:12, "Then all the multitude [of elders & apostles] kept silence, and gave audience to Barnabas and Paul, declaring what miracles and wonders God had wrought among the Gentiles by them." It was in this same way, doubtlessly, before this event in Acts 15:12 had happened, that the apostles first perceived the grace of God with Paul and gave him the right hands of fellowship. As it was written inGalatians 2:9, "And when James, Cephas, and John, who seemed to be pillars, perceived the grace that was given unto me, they gave to me and Barnabas the right hands of fellowship; that we should go unto the heathen, and they unto the circumcision" (Gal. 2:9). It was by this careful diligence that "they saw that the gospel of the uncircumcision was committed unto me," Paul said (Gal. 2:7). Paul "went up to Jerusalem to see Peter" face to face in personal audience, "and abode with him fifteen days," and so Peter heard him, tried him, and received him as a brother (Gal. 1:18).

Surely, in our generation, Paul Washer (in type) is a Pillar, at least concerning the defense and confirmation of the gospel, and we are very much (most of us) fruit of his labors, and most loving, prayerful supporters. I speak to you and Paul in honor "as a father" (1 Tim. 5:1), has this diligence and biblical format been practiced in our situation concerning the reception or rejection of us (this poor and rejected candlestick in Texas)?

Surely, a matter of fellowship, reception and rejection, is typified in the executions done in the OT when there was a report of sin in the camp. They used very careful means and searches lest they did err in judgment and condemn the innocent. Rightly so, for "he that justifieth the wicked, and he that condemneth the just, even they both are abomination to the LORD" (Prov. 17:15). It was written in Deut. 13:14, "then shalt thou enquire, and make search, and ask diligently; and, behold, if it be truth, and the thing certain, that such abomination is wrought among you," then an execution was made like unto NT excommunication. But has this inquiry, search, and diligence been done like the NT format in our case, like as it was done with Paul when they gave him personal audience? 

Likewise again in Deuteronomy 17:2-13, something has been told to you and you have heard of it, but you have not enquired of us in personal audience to see if the thing be certain, and we are willing even to travel all across the country to meet with you or Paul, or this young man's parents, or any other thing under our power or capability (granted by the Sovereign Lord) just so that we are not forsaken by our brethren. And if we have sinned, (God being gracious to grant us repentance) we will repent, but we ask that the enquiry, diligence, and certainty of things would follow the pattern of the NT as to avoid the slanderous disaster that the heathen have created. Lest in our day, like in the case of the apostle Paul, true Christians do follow these slanderous reports as to reject their regenerate brethren. 

I beg and intreat you, Marc and Paul, that you would hear us in this way, following the proper biblical precautions set forth by the word of God, if indeed I have interpreted it correctly, of which I am subject to correction, for I am persuaded that an "outside perspective" only is not sufficient on this matter (as you said you have undertaken in our examination Brother Marc), and it does break our hearts in pieces to hear of all this news and all the harm that our internet persecutors are and have achieved to their cause around this country. My soul, wait thou only upon God. 

Lord Jesus, please have mercy upon us all and expose any sin that be in us (Sean, Jake, and Ryan or the Church of Wells), or any that be in them (Marc, Paul, and Heartcry), on this matter or others. Please Lord, in the mercy and love You have promised toward us as your people, please! Help us. Help us fulfill your word as it is written in Php. 1:27, that our affairs may be that we stand fast in one spirit, with one mind, striving together for the faith of the gospel.

In the scripture I find that, we should not lay hands suddenly as to receive or ordain an elder, but also, that we should do nothing suddenly, rashly, or anti-biblical in rejecting an elder, ministry, person, or work (1 Tim. 5:22).

I love you both, Marc and Paul, and do await your reply as the Lord leads. 
May God bless and give you grace and peace in the truth of this matter.

Sincerely yours and Christ's,
Sean, on behalf of Jake, Ryan, and the Church of Wells.
Re: What other spiritual leaders/pastors have to say
Part 2 of 2 of the email exchange.


Auguest 7, 2012

Sean,

Sorry that it's taken so long to get back with you.  

First, let me start by saying that this is not an issue of church discipline, as you have implied.  I do not have the authority to exercise such discipline over those outside my own congregation.  This has simply been a request for you and your group to cease associating yourselves with Paul Washer and to cease using his name and teaching towards your own ends.

Second, I have not based my information on your group solely on the internet.  The internet has only confirmed what others have told me directly.  I have spoken with several people who have had first-hand interaction with your group.  In good faith, I have every reason to believe what they say is true, verses your claim that my sources are lying.  Which brings up a good question: How can you claim my sources are lying when I have not stated directly what they have told me?

Last, I see no compelling reason to hear you or the other leaders out any further.  I have already devoted enough time to the issue and your self-identification with the apostle Paul does not convince me otherwise.  If the men in HeartCry took time to investigate and pursue every person or group like yours, we would have to cease doing the ministry that God has called us to do.  Mormons claim to be Christian.  Jehovah's Witnesses claim to be Christian.  A host of other group do, as well.  As a Christian, I am not biblically obligated to hear each of these groups out before I decide not to associate with them.  Surely you agree on this point.

I do know that older, wiser, and more godly men than yourselves have given you firm warnings about the direction in which you're headed.  If I were in your shoes, I would not let those warnings fall on deaf ears.  Again I'll say, pride, and especially spiritual pride, is a perilously blinding force.  Please heed the warnings you've been given and do not let that pride continue carrying you in the trajectory you're headed.

I will be praying for you and your group.

Marc Glass
Coordinator for the Middle East and Africa
January 20, 2014

Wells Leadership:

Why do I continue to receive emails and phone calls from people stating almost verbatim the message below?  This is the third individual I have heard from in the last month. You were asked a number of months ago to refrain from identifying yourselves with Paul. You affirmed that you would comply with this. Now, based on what I have been told from every person that contacts me, you are still leveraging his name and preaching for your own gain. 

Please cease using Paul to advance your own agenda.

Marc Glass
April 13, 2014

Wells Leadership,

I am sending this email in response to a conversation I just had with Paul Washer.  Paul has asked me to contact you regarding the video of his teaching that you have posted on your website: http://www.thechurchofwells.com/open-response-to-matt-slick-from-carm.html

On behalf of Paul, I have repeatedly asked you not to use his preaching or teaching in support of your own views and not to identify your selves with him in any way.  Initially, you complied with this request.  However, not only have you now publicly posted this video, but we at HeartCry have been repeatedly informed that you are using Paul's name in conversations with others for your own end.

This is deceptive.  

Paul is now investigating ways to publicly disassociate himself from you and your group.  It is grieving for our ministry, which has been called to labor for the advancement of the Gospel in various places throughout the world, to continually hear how your group has twisted and perverted precious Gospel truths so as to make the Gospel no longer Good News.  

I do ask once again: please remove the video of Paul's preaching from your website and please refrain from making false claims of identification with Paul, his ministry, or his teaching.

Sincerely,

Marc Glass
Coordinator for the Middle East and Africa
From Jake Gardner, April 14, 2014

Dear Paul, 
This is Jake Gardner, one of the young pastors of the church of Wells. I know that you may not appreciate me sending you a text message to your personal phone, but it is the only means I had to send you something personally. I assure you that I will not make it my custom to message you personally (though God knows that I desire communications with you), and I will not give this number to another. 

I am grieved by the division that exists between us and truly weep and am troubled whole days at a time for it. May God heal this, by his grace. I am sending you my response to Marc's message last night, wherein I also address you. O how I desire charity and unity among all of God's saints, even if I'm in error and need to be instructed in the way of the Lord more perfectly. 

I love you more than you know, dear brother. 

Your Grieved Brother in Christ,
Jake Gardner

--- 

Dear Marc and Paul,

Again, with grief we received your words last night. 

Marc, does it not trouble you at all that from the beginning of your communications you have treated us, not as Christians for whom Christ died, men and women that the Father thought treasure enough to send his own Son to die for, but rather as deceived ones, unworthy of a hearing or Christian charity. Are you a pastor, Marc? Are you a missionary? And do you (or Paul) not have the slightest care to cast aside these little ones for whom (I can assure you) Christ hath died? Unthinkable. May it never once be named among us as becometh saints. 

Have you or Paul sought out carefully your course towards these 100+ people down here in Texas, or has it become a light thing to deny Christians in whom Christ dwells? "Verily I say unto you, Inasmuch as ye have done it unto one of the least of these my brethren, ye have done it unto me" (Matt. 25:40).

Have y'all sought out the matter as scripture would instruct a man to do?

In correspondence with those in our church and those outside of our church you have, without reason, unequivocally deemed us a cult. Why then, Marc, did you say in your opening letter to us that you hoped your letter found us and our congregation prospering in the Lord? Is this deceitful?

You and Paul find us so dangerous, and yet Paul's ministry has been so instrumental in the salvation of so many souls here, why then are y'all not concerned enough to instruct us from our error. Would you believe me if I told you that we desire that? Would you believe me if I told you that none of our "fathers" have tried to do this, as the scriptures command (Titus 1:9)? Would you believe me if I told you that the very ones you have been led to believe have made this endeavor actually never have? Marc, our church is not the only ones that can bear witness to the truth of these things, many witnesses can, and thus you're ministry and behavior towards this poor, persecuted flock of God's right now, is being held in blame, because y'all have cast us off without a hearing because y'all believed "older, godlier men" have already tried. 

Do you all know that the man who motivated the slander that first provoked y'all to disassociate from us in '12, "that father of one of our congregants", has since repented of his sin against us and his lies, and is saddened by all the trouble he has caused and seeking God of how to make amends?

Do you all know that the man who heard this in Jerusalem, Stephen, who then told his pastor, who then told you, has also repented and apologized for the same things to us?

Do you all know that one of the men who provoked y'all's second request to us last year, Moses David, has also repented and is praying of how to make amends as well? 

Do any of these things concern you all? That you may have grievously erred regarding some for whom Christ shed his precious blood?

O be not proud. I speak in love. 

---

We complied with your request in 2012 to take Paul Washer's messages off of our website, and we have complied in other ways as you had asked. We cannot help that people have joined our church of late whose testimonies of salvation involve Paul Washer's message, nor can we (or would we) keep them from sharing that. 

Paul is willing to deny Christ in us, but we are not willing to deny Christ in him. 

We complied out of deference, but not from conviction that our behavior was wrong. On the contrary, we are convinced that you're behavior, and Paul's (as much as he has been involved in the decisions you have made and emails you have written), is wrong and unchristian. 

We have posted the 3 minute prophetic message of Paul's because we are convinced that he was speaking by the word of the Lord. Thus it is not his message or mine, but God's. We are obligated to honor Christ from wherever he may be found to speak, and so we have used this video and do not plan to take it down. 

As Paul "investigates ways to publicly disassociate himself from us and our group", would he even consider speaking to us? We would listen.

---

We appeal to y'all to consider your ways. Has your behavior been perfect before God in this matter?

I wrote the following in response to Paul's public smiting of us a couple months ago:

(Below is a poem titled, "A Lamentation for My Fathers", written with a heart full of love and desire for the spiritual fathers of this generation to return to their sons and be true pastors after God's heart, bringing up their sons in the nurture and admonition of the Lord; even taking them by the hand instructing them through the scriptures, and not cast them away without a proper hearing according the holy obligations of God's written word...)

With Great Love and Longing,
In Christ,

Jake Gardner
April 16, 2014 
Jacob and Others,

If you do not wish to pass on your phone number, this is fine. I want to take the opportunity, however, to address two issues: the first is our issue with the Church of Wells, while the second is your expressed issue with us.

First, our primary issue is this: you continue using Paul Washer's name and teaching material to promote your ministry. 

While there are serious concerns that we have regarding your theology and, especially, your practice, these issues lie outside Paul and HeartCry's sphere of ministry. It is true that our desire for non-association with your church is a fruit of your doctrine and practice, however, your doctrine and practice alone would not prompt a response from us. It is because you are publicly connecting Paul's name to what your church is teaching and practicing that we are very upset. 

Furthermore, it is important that you realize that your actions in doing this are deceptive. In fact, putting the photos of Jonathan Edwards, Leonard Ravenhill, etc. on your website is also deceptive. None of these men would be in agreement with both your church's doctrinal nuances and your church's practices. Hence, you are deceivingly identifying yourselves with these men for the sake of presenting yourself as belonging within their camp, when in reality, you deviate from their teaching.

We, at HeartCry, have been burned by this "leech" mindset before and it sickens us. It is characterized by men attaching themselves to godly men so as to live and benefit from the blessing of God on those godly men's ministry. The Apostle Paul strongly opposed this practice in 2 Corinthians 10: 

"But we will not boast beyond our measure, but within the measure of the sphere which God apportioned to us as a measure, to reach even as far as you. For we are not overextending ourselves, as if we did not reach to you, for we were the first to come even as far as you in the gospel of Christ; not boasting beyond our measure, that is, in other men's labors, but with the hope that as your faith grows, we will be, within our sphere, enlarged even more by you, so as to preach the gospel even to the regions beyond you, and not to boast in what has been accomplished in the sphere of another. But HE WHO BOASTS IS TO BOAST IN THE LORD. For it is not he who commends himself that is approved, but he whom the Lord commends."
(2 Corinthians 10:13–18 NAS95)

You men have admitted that a large number of the Church of Wells congregants have come to faith in Christ through the preaching ministry of Paul Washer. I wonder how much of your own ministry will prove in the end a boasting or even a taking over of "what has been accomplished in the sphere of another"? How many conversions of your church members are the direct result of your evangelistic efforts and you living in such a way as to have a good testimony with the Wells' community?

Furthermore Jacob, in your correspondence with me a few days ago you stated the following: "We have posted the 3 minute prophetic message of Paul's because we are convinced that he was speaking by the word of the Lord. Thus it is not his message or mine, but God's. We are obligated to honor Christ from wherever he may be found to speak, and so we have used this video and do not plan to take it down." I want to point out, first, that your unwillingness to comply with our request is what prompted Paul's tweets about the Church of Wells. You can pretend that this was an unwarranted "smiting", but that is not the truth. Second, it is ironic that you would accept a message while dishonoring the messenger. You claim that Paul "was speaking by the word of the Lord" and yet when Paul makes a request from you, you deny him. Also, if it is God's word that is being spoken through Paul, as you claim, why do you make the assumption that Paul's condemnation of you is any less than God's word? Third, it is obvious to me (and if you're honest with yourselves, it should be obvious to you) that the only reason you are not complying with removing Paul's video is because it serves you well in your polemic against Matt Slick. You are projecting Paul's words onto your situation, thinking that they validate your ministry, when in fact the type of persecution the Church of Wells is undergoing was not what Paul had in mind as he preached the message. 

First Peter deals with persecution. As Peter is giving instruction on how to suffer well, he exhorts his readers in 1 Peter 4:15, "Make sure that none of you suffers as a murderer, or thief, or evildoer, or a troublesome meddler." His point is to indicate that just because his readers are Christians, not all the suffering that they go through should automatically be assumed to be the result of their Christian faith. They may, in fact, undergo suffering and persecution as a result of their own sin. I know a number of biblically faithful churches that are not experiencing the societal repulsion that the Church of Wells is experiencing. It's not because they're compromised or unfaithful; it's because their leaders have the wisdom to lead their congregation in such a way that they are living out faithful Christian lives, while at the same time living sensibly (Titus 1:8, 2:2, 2:5, 2:6), tranquilly, and quietly in all godliness and dignity (1 Timothy 2:2). The Church of Wells, on the other hand, is being persecuted as a result of your sin; it's the result of your failure to fully comprehend what godliness looks like, Scripturally speaking. You are now reaping the fruit of what you have sown.

From Paul and HeartCry's standpoint, we desire to have nothing to do with this.

The second issue, then, is the issue that you expressed to me the other day in your first Facebook message: we have failed to extend to the Church of Wells the biblical pattern of due process.

While I will agree that we have not conducted due process of the Church of Wells on a personal level, please realize that we have extensively looked into your group from a distance. After examining you from a distance, we have then come to our conclusions and also determined that we are not biblically obligated to look any closer. A few reasons:

First, if you were to continually hear person-after-person shout "Wolf!" your safest method of investigation, at least initially, would be from a distance. You don't charge in carelessly after hearing a wolf warning and expect to find a sheep. You first pull out your binoculars and look to see what it is that people are warning you about. If when examining the so-called wolf through binoculars from a distance you see the shape of animal that resembles a wolf, the hair of a wolf, the teeth of a wolf, and the stride of wolf, it's safe to assume that what the multiple voices claimed is true. This is what we've done: we have consulted numerous sources that all indicate the same conclusion. As a result, we have reached a conclusion as to how we will (or rather will not) relate to you.

You may object, claiming that Matthew 18 applies and that we are obligated to consult with you in person. This is a faulty view of Matthew 18. Matthew 18 applies to church discipline within a church where sin issues come up and how that church is to handle the sin issues. Your initial correspondence with me two years ago indicated that you were viewing my request to remove Paul's material from your website through a "church discipline" lens. This is not church discipline, as none of you are in our church. We would have zero interaction with one another if it weren't for the internet. Church discipline is not exercised over the internet among relationships that are not even real relationships.

Which brings me to my next point: you claim that Paul Washer is a spiritual father of yours. I can see why you would say this due to Paul's preaching videos that are on the internet. Perhaps you even feel like you know him as a result of listening to a great deal of his preaching. It is important to realize, however, that Paul does not know you and does not have a relationship with you. While you may view him as a spiritual father and think that he has an obligation to you, he does not know you at all and does not view any one in the Church of Wells as a spiritual child. Even if he did, though, he would consider you rebellious spiritual children as your doctrine and practices do not reflect his.

Jacob: you expressed your desire to learn from Paul and HeartCry and to hear correction. The other day you said, "You and Paul find us so dangerous, and yet Paul's ministry has been so instrumental in the salvation of so many souls here, why then are y'all not concerned enough to instruct us from our error. Would you believe me if I told you that we desire that?" Upon reading your message, I initially found this convincing … until I reached the part where you refused to remove Paul's video from your website. Do you see the hypocrisy of speaking out of both sides of your mouth? You say on the one hand that you will listen and desire correction, but on the other hand that you refuse to comply with a simple request.

Though I'm ignorant of your history, I would guess that the Church of Wells began outside the oversight of a sending church or the direction of older, godly men. Jacob, in your response to me the other day, you presented a poem lamenting that spiritual fathers have abandoned their spiritual children. I would ask you: when have you ever submitted yourself to the authority of a spiritual father? Is it possible that yours and Sean's and Ryan's refusal to do so is in fact the source of your present persecution? Spiritual pride is a devastating and blinding force. In light of this, Peter's exhortation to a group of persecuted Christians was "You younger men, likewise, be subject to your elders; and all of you, clothe yourselves with humility toward one another, for GOD IS OPPOSED TO THE PROUD, BUT GIVES GRACE TO THE HUMBLE. Therefore humble yourselves under the mighty hand of God, that He may exalt you at the proper time, casting all your anxiety on Him, because He cares for you. Be of sober spirit, be on the alert. Your adversary, the devil, prowls around like a roaring lion, seeking someone to devour." (1 Peter 5:5–8) May the Lord grant you grace for humility so as not to find yourselves opposed by God himself.

Sincerely,

Marc Glass
April 16, 2014

Dear Marc, 

This message was written with unutterable burden and heaviness, longing for God's will to be done between us. Truly Marc, we love you. Words cannot express how truly we do genuinely care about this situation. An ordered response to your latest email is below. 

Not Desiring to Give Our Phone Number
In my former message to you I by no means insinuated that I did not want to give you my number or that I was not forward to speak. Communication is actually all we have been desiring towards you all since you first emailed us in 2012. We still desire to speak, but we only desire that you would be a man of patience and not be rash in your communications towards us. 

"And the servant of the Lord must not strive; but be gentle unto all men, apt to teach, patient, in meekness instructing those that oppose themselves; if God peradventure will give them repentance to the acknowledging of the truth; and that they may recover themselves out of the snare of the devil, who are taken captive by him at his will." - II Tim. 2:24-26

Accusation That We Are Deceivers
Marc, concerning your accusation of our being deceivers because of our publishing of the men at the top of our website, you said that we were doing this to lead people to believe we belong to "their camp". This was not our purpose, nor would any clear-eyed man, who knew enough of church history to even know who those men are, think that we are trying to do this; in vain would I lead people to believe that I belong to Wesley's camp and Whitefield's at the same time? I say "clear-eyed" for I do not honestly believe that you are. You are ill-affected against us, as is evident by your unaffectionate words and treatment of us over these last two years (contrary to what brothers in Christ ought to be, Eph. 4:32). 

"The poor useth intreaties; but the rich answereth roughly" (Prov. 18:23). 

To frame us as arch-deceivers for merely honoring and standing with men of history who served God in their generation and turned many to righteousness, is uncharitable at the least. You imagine (through an evil eye) that we have somewhat of our own "ends" in mind with all of this! Staggering! I do have an end - God knows I have an end - and HIS name is Jesus Christ! And by his grace I will not only use all of those men on our site, but all men who I know of that are preaching the glorious gospel of Jesus Christ, and the mysteries contained therein, with the power of the Spirit of God accompanying their ministry, yea, even Paul Washer (as God leads), if I perceive it to be expedient in bringing men to my end!

The furthest thing from our purpose in posting the clip of late from Paul, was to lead people to believe that Paul is currently commending our ministry. Paul, made it plain enough before we ever posted his video, that he does not commend our ministry. But rather, with thankfulness for the word of the Lord (then spoken by Paul), to show the remnant how this work, though it be a sign spoken against (yea, even now by the preacher himself), can still be the work of Jesus Christ. Secondarily, to manifest what Paul has formerly believed, and let the remnant judge for themselves if he is currently adhering to this conviction. Also, God willing, that Paul himself would be held accountable in his own conscience if indeed he is condemned by his own words. What a fearful thing it is for a preacher to be condemned by his own sermons! Even the Pharisees garnished the sepulchers of the prophets.

Others may not be able to love Whitefield and Wesley equally, but we, Marc, do not have this dilemma, but would lead men to them both, as much as these men would lead them back again to Christ. When men are dying in a thirsty land, I would show them all the rivers - every one - that lead to their Fountain, and not merely a few. 

God help you to see our hearts that are nigh broken by yours and Paul's words which are as swords to us. "There is that speaketh like the piercings of a sword" (Prov. 12:18).

Persecution for Sin, Not for Righteousness
1)     How do you know? Have you verified by biblical due process what our persecution is, and why? 
2)     By the same standard in which you have judged and condemned us, would you have condemned godly men of the past (Spurgeon, Bunyan, Renwick, etc.)? 

Marc, you speak of the possibility of persecution because of sin, not necessarily because of righteousness, and you say that you have looked into our persecutions "from a distance" and that suffices you to conclude that our persecutions are unfounded and a result of sin – but staggeringly – you have not even asked our side of what is being said about us! Marc, if you judged the persecutions of Bunyan, Spurgeon, and Renwick by the same standard that you have judged us (all of which went through similar name-calling persecutions and slanders as we), you would condemn them like you have condemned us. To avoid this, wouldn't you wish that you would have rather taken private counsel with these men if you lived in their generation, to hear what they had to say about it? Why have you refused to have such with us? Why do you refuse to believe that we could be going through a modern equivalent to what these men went through in the past? You cite that you know of other biblical Churches who are not suffering the persecution that we are going through, but do you know any Church which is suffering persecutions that Bunyan, Spurgeon, and Renwick went through? What about the scriptural witness of persecutions? Do you know of anyone who open-air-preached with effectual power and consistency like these men did? Marc, Wells has 8 Churches in it, and John Wesley was kicked out of every Church in England. Why? Because they were apostate and he was making stands for Christ in the land. Marc, how do you know this is not our situation Marc, do you know anything about us or our situation, truly? Is it not even worthy of an examination? To refresh you, I have put below some quotes which describe the persecutions some of these men went through. Please read them: 

Leonard Ravenhill
I think of Leonard Ravenhill when he said, "My main ambition in life is to be on the devil's most wanted list." What did Ravenhill mean? Ravenhill understood that, to the degree one is effective in confronting sin and convicting consciences through the empowerment of the Holy Ghost, there would be a proportionate onslaught of persecution and resistance. In this vein Ravenhill said, "In a day of faceless politicians and voiceless preachers, there is not a more urgent national need than that we cry to God for a prophet! The function of the prophet, as Austin Sparks once said, "has almost always been that of recovery". The prophet is God's detective seeking for lost spiritual treasures. The degree of his effectiveness is determined by the measure of his unpopularity. Compromise is not known to him. He has no price tags. He is totally "otherworldly". He is unquestionably controversial and unpardonably hostile. He marches to another drummer!"

George Horne
I think of George Horne when he said, "Slander and calumny must always precede and accompany persecution, because malice itself cannot excite people against a good man, as such; to do this, he must first be represented as a bad man. What can be said of those who are busied in this manner, but that they are a "generation of vipers," the brood of the old "Serpent," that grand accuser and calumniator of the brethren, having under their tongues a bag of "poison." conveying instant death to the reputation on which they fasten. Thus David was hunted as a rebel, Christ was crucified as a blasphemer, and the primitive Christians were tortured as guilty of incest and murder." - George Horne

John Bunyan
I think of John Bunyan when, as he said, Satan did use men to "load me with slanders and reproaches." He said that these slanders were "whirled up and down the country against me." It was said that John "was a witch, a Jesuit, a highwayman, and the like." Also, John wrote, "that which was reported with the boldest confidence, was, that I had a misses, my whores, my bastards, yes, two wives at once, and the like. Now these slanders (with the other) I glory in, because but slanders, foolish, or knavish lies, and falsehoods cast upon me by the devil and his seed; and should I not be dealt with thus wickedly by the world, I should want one sign of a saint, and child of God." (Grace Abounding to the Chief of Sinners)

C.H. Spurgeon
I think of C.H. Spurgeon when he said, "There has been no single Church of God existing in England for these fifty years  which has had to pass through more trial than we have done…scarce a day rolls over my head in which the most villainous abuse, the most fearful slander is not uttered against me both privately and by the public press; every engine is employed to put down God's minister – every lie that man can invent is hurled at me… They have not checked our usefulness as a Church; they have not thinned our congregation; that which was to be but a spasm – an enthusiasm which it was hoped would only last an hour – God has daily increased; not because of me, but because of that gospel which I preach…" – C.H. Spurgeon 

I think of C.H. Spurgeon when he was lonely and maligned during the downgrade controversy. I think of the words that he wrote while commenting on Psalm 7:1-2 in the Treasury of David, "the wounds of a sword will heal, but the wounds of the tongue cut deeper than the flesh, and are not soon cured. Slander leaves a slur, even if it be wholly disproved. Common fame, although notoriously a common liar, has very many believers. Once let an ill word get into men's mouths, and it is not easy to get it fully out again. The Italians say that good repute is like the cypress, once cut, it never puts forth leaf again; this is not true if our character be cut by a stranger's hand, but even then it will not soon regain its former verdure. Oh, 'tis a meanness most detestable to stab a good man in his reputation, but diabolical hatred observes no nobility in its mode of warfare. We must be ready for this trial, for it will surely come upon us. If God was slandered in Eden, we shall surely be maligned in this land of sinners. Gird up your loins, ye children of the resurrection, for this fiery trial awaits you all." And again at another time, Spurgeon said, "When we are slandered it is a joy that the Lord knows us, and cannot be made to doubt our uprightness he will not hear the lie against us, but he will hear our prayer against the lie."

James Renwick
I think of James Renwick and Alexander Peden, two of the faithful and beloved Scottish Covenanters. Alexander, called "the prophet of the Covenant" was a dear man of God; however, he eventually forsook James Renwick, called "The Last Scottish Martyr." Yet, before Peden's death he was reconciled to Renwick. Why was James forsaken? The lies were so numerous and reputed, Peden was beguiled to believe their report. Here is the event of their reconciliation just before Peden died:

"He said to James Wilson, that from the time he drank in these false reports, and followed these unhappy advices, it had not been with him as formerly; and when he was a-dying, he sent for Mr Renwick, who hasted to him and found him lying in very low circumstances, overgrown with hair, and few to take care of him, as he never took much care of his body, and seldom unclothed himself, or went to bed. When Mr James came in, he raised himself upon his bed, leaning upon his elbow with his head upon his hand, and said, "Sir, are ye the Mr James Renwick that there is so much noise about?" He answered, "Father, my name is James Renwick; but I have given the world no ground to make any noise about me; for I have espoused no new principle or practice, but what our Reformers and Covenanters maintained." "Well, sir," said Mr. Peden, "turn about your back," which he did in his condescending temper. Mr. Peden said, "I think your legs too small, and your shoulders too narrow, to take on the whole Church of Scotland on your back; sit down, sir, and give me an account of your conversion, and of your call to the ministry, of your principles, and the grounds of your taking such singular courses, in withdrawing from all other ministers;" which Mr. Renwick did in a distinct manner; of the Lord's way of dealing with him from his infancy, and of there mornings successive in some retired place in the King's Park, where he used to frequent before he went abroad, where he got very signal manifestations and confirmations of his call to the ministry, and got the same renewed in Holland a little before he came off; with a distinct short account of his grounds upon which he contended against tyranny and defections, and kept up an active testimony against all the evils of the day. When ended, Mr. Peden said, "ye have answered me to my soul's satisfaction, and I am very sorry that I have believed any such ill reports of you, which have not only quenched my love to you, and marred my sympathy with you, but made me express myself too bitterly against you, for which I have sadly smarted. But, sir, ere you go you must pray for me, for I am old, and going to leave the world;" which he did with more than ordinary enlargement; when ended, he took him by the hand, and drew hi to him, and kissed him and said, "Sir, I find you a faithful servant to your Master; go on in a single dependence upon the Lord, and ye will win honestly through and cleanly off the stage, when many others that hold their head high will fall and lie in the mire, and make foul hands and garments"; then prayed, that the Lord might spirit, strengthen, support and comfort him in all duties and difficulties. James Wilson was witness to this, and James Nisbet, who then lived in that countryside, could have asserted the truth of this." (Fair Sunshine)

Marc, the issue is not, whether or not you followed biblical due process on a "personal level", as you said. The question is, have you followed biblical due process at all? Identifying our situation to involve the internet DOES NOT justify the negligence of biblical due process. Every age must come under subjection to the scriptural witness of biblical due process. Concerning your transgressions of this process, I ask you then: Have you asked those sources which you have heard from concerning their testimony of personal conversion to Christ, to verify that their witnesses are veritable and trust worthy? Do you even know if these people are regenerate and / or right with God right now (a backslidden regenerate man will also deliver false witnesses against the true, biblically speaking)? Did you verify the sources who witnessed against us with two or three witnesses who were present in the circumstances which they testified about? If so, why have you not included our witnesses who were present in whatever situation is being spoken about? This is not biblical or charitable. Why is it that you do not care to hear our testimony concerning the situations they have witnessed about? You have decided upon our spiritual condition in a way which is biblically unfounded UNLESS you have had a personal relationship with us, hearing us out, according to biblical due process – just stating that you NEED to have a personal interaction and relationship to follow biblical process does not mean that you are justified in not following biblical process. Rather, we should personally interact and follow biblical process. You say that our appeal of your actions and decisions is biblical only if we have a relationship with you so that we can operate on scriptural grounds, but the truth is, your actions and decisions which you have made concerning us should not have been made UNLESS you have a relationship with us. 

In one of your former emails you equated us to be no better than Mormons and Jehovah's Witnesses! And now you are referring to us as nothing but "leeches" to your ministry and preaching. If the truth was told, you would know that we hardly ever use the name or preaching of Paul Washer, but in momentary reference of some kind. By the grace of God, most of the brethren have been converted through the instrumentality of the Spirit of God through this church. You are convinced that we are nothing but malicious thieves of self-promotion, using Paul's godly efforts to our own gain, and yet you have not even verified that we are converted, you have not verified if those to whom we preach are being led to and converted by CHRIST and not another, if these individuals are not being converted and you are convinced of that, you have not verified the testimonies which have built your skewed perspective of us, and furthermore you have not, to this day, been willing to speak to us to find these things out…therefore I must conclude that your impression of us is hasty, unfounded, and lead by reports which you have not verified by following biblical due process, and you don't have enough charity for us or fear of God to seek it out further. 

Marc, this isn't about your ministry and our ministry, your time abilities and how you don't have enough time, or some other argument how you don't have any obligation to address us further… Marc, if God is with us, then we will continue to be given grace to have an effect and preach across this nation, therefore is it not pertinent that we come to a conclusion if we are even regenerate individuals? Why can't we begin here, are we even converted individuals? My testimony can be heard on our website, would you listen to it (My Testimony)? Would you tell me if you think I am just a "leech", having no experience with God, having no effectual thing to say about Christ's saving power, etc.? It was said that James, Cephas, and John "perceived the grace that was given" to Paul when he was personally examined by them face-to-face, will you not do this with us (Gal. 2:9)? We will fly or drive to where you and Paul are! Furthermore, if our Church was built by and established primarily on the preaching of Paul, then his rejection of us would dismantle the Church – but it has not done this! Everyone in our Church knows that Paul is in disagreement with us, but they also know that you have NOT followed biblical due process. They, unlike you, have a keen awareness of what has transpired these past years, how and why we have been persecuted, what events led into it, etc… but you do not, Marc! Our Church was (and is) not dismantled by Paul's comments on Twitter because God is with us! How is it that you cannot see this? I conclude it is because you have not taken the time to look into us, or you have been too infected by slander and lies, or you are puffed up and moved by some evil motives and are, therefore, not right in the sight of God at this point in time (though you may be regenerate, I know not). 

You seek to justify your actions about how you sought after other sources and all their witnesses agree, but in our previous letter we testified to you how your witnesses which you based some of your primary and initial decisions to reject us have proven, by their repentance, as false! You would reference Steve, Doug, and others like Moses David to verify your decisions, but we have written to you tell you that they have repented and apologized…why haven't you even acknowledged this (an account of Moses recent letter to Marc and Paul can be found HERE)? Why don't you call Steve and Doug? Did you read Moses' letter that he sent to you? 

Marc, in all honesty and sincerity, have you ever been instrumental in a genuine move of God? How many hours do you pray? Have you ever seen a community of people quaking under the fear of God? Have you ever seen hundreds upon hundreds of people gathering on a daily basis to hear the word with much earnestness, fear, and a desire to repent and be saved – without any organized meetings planned weeks in advance, without any promotion, but simply the moving of God's Spirit to awaken a sleeping community? Have you ever seen a Church so pressed under a sincere burden for the lost through the Spirit of God so that, the Church gathers together and prays for many hours with constant weeping and travail? Have you ever experienced what Martin-Lloyd Jones speaks about...

"There can be a lot of laughing and lightness, and obvious organization in evangelistic campaigns. Not so in a revival, but rather awe, reverence, holy fear, the consciousness of God in His majesty, His glory, His holiness, His utter purity. And that, as we have seen, leads inevitably to a deep and terrible sense of sin, and an aweful feeling of guilt. It leads men and women to feel that they are vile and unclean and utterly unworthy and, above all, it leads them to realize their utter helplessness face to face with such a God." Martin-Lloyd speaks of the workings of the Spirit of God saying, "The holiness of God, their own utter sinfulness and wretchedness, their own unworthiness; they realize they have never done anything good at all. Before, they thought they had done a great deal, now they see that it is nothing--useless. Like Paul they begin to talk about it as dung and filthy rags. In their utter helplessness and hopelessness, they prostrate themselves and cast themselves upon the love and mercy and compassion of God. This is the convicting work of the Spirit who takes charge of the situation. People may be held in that state for some time--not only for hours but sometimes for days and weeks, and months. They may become almost desperate." God consumes these people, as Martin goes on to say: "This now becomes the one thing that absorbs them. If they meet anyone they talk about it at once; everybody is talking about it, it is the main topic of conversation, it is the thing that absorbs all their interest. They desire to be together now and to talk about these things and so they get together, and they hold meetings. They meet every night to talk about these things and to praise God and to sing hymns to His glory...Then they begin to pray, and there they are, hour after hour, night after night, longing to finish work so they might get together with other people who have experienced this movement of the Spirit of God. And that, of course, in turn leads them to have a great concern about others who are outside and who do not know these things...That is what happens in revival and thus you get this curious, strange mixture, as it were, of great conviction of sin and great joy, a great sense of the terror of the Lord, and great thanksgiving and praise...Always in a revival there is what somebody once called a divine disorder. Some are groaning and agonizing under conviction, others praising God for the great salvation. And all this leads to crowded and prolonged meetings. Time seems to be forgotten. People seem to have entered into eternity." 

Marc, have you ever seen this or experienced it, or been instrumental in establishing it? We have seen things like this, and for this reason Satan is revolting against our ministry with such vehemence and wrath! For more on our understanding of biblical persecution comparatively to the veracity of discerning it in our day, please see "Defamation & Persecution From the Regenerate". 

Marc, please fear God. You may conclude that our earnestness and affection towards you is pretentious, but I will assure you that we have wept and prayed for your soul, longing for God to bless you all still. 

May God have Mercy and Let Judgment Go Forth,
Sean Morris and Jake Gardner
Re: What other spiritual leaders/pastors have to say
 
                                               A Letter to Paul Washer from Moses David
 

Dear Brothers Paul and Marc,

Greetings to you in the matchless Name of our merciful Lord and Savior, Jesus Christ.

I would like to bring before you a positive report about our daughter, Preethi (now Preethi Morris) and the Church of Wells.

Our family went to the marriage along with a good pastor friend (a lesser known, but the most knowledgeable and the best Bible teacher in my opinion). Our pastor friend counseled us to repent of our sin of harsh treatment of Preethi before she left home. After we asked for forgiveness from Preethi, both Sean and Preethi became very soft and tender hearted towards us. Sean Morris shared his personal testimony of salvation by grace alone and faith alone, which was very compelling. After a detailed discussion of the doctrine, all of us, including Anand and Prasanna felt comfortable about them. My only criteria for giving the hand of Preethi to a man that was that he was genuinely born again by the Spirit of God, and walking presently with Jesus Christ as his Lord, and Savior, with a passion to serve Him. Sean met all of these criteria. The church family welcomed us, and showed us a lot of favor and outpouring of love. God demonstrated His faithfulness to me in a very powerful way during the wedding, especially while walking Preethi down the aisle, and we sang the hymn, "How Deep the Father's Love for us" The church service itself was very moving, very powerful charge given by Ryan Ringnald to Sean and Preethi, an inspiring (I was truly inspired to be a husband like that to my wife, Mercy!)  twenty minute marriage vow by Sean Morris to Preethi and a heartfelt, God-centered written personal vow by Preethi. The sermon itself was a Holy Spirit inspired message by Corey McLaughlin. The sermon was  two-hours long, and the conviction of the Holy Spirit was very strong. The church family was especially nice to our family. 

Since the wedding, Preethi has been in communication with us, and is happy to be united with Sean. She is blessed to be in the company of saints who truly are committed to the Lord. Sean ministers to the men throughout the day, and then to Preethi in the night. Preethi spends her day in God's Word, prayer and in fellowshiping/counseling the other women, and preparing food for part of the time. Preethi had always wanted to marry a servant of God, and be in the ministry work, which God provided for her. All communication channels are open for her to contact us, and she communicates with us every week. Preethi is bearing good fruit now and has a broken and contrite spirit and heart. 

In the beginning of March, I had the privilege to visit Preethi and Sean, and stayed with them in their house. I was blessed to know Sean more and fellowshiped with the other church members, mostly young men, with much knowledge of God's Word, well discipled, and with a passion and zeal for the Lord. I sensed genuine love among the church members, and God-honoring, committed marriages. I was blessed to go on an hour-long walk with Preethi, just the two of us. Preethi shared with me about her life, and we shared with each other what the Lord had been doing in our lives. 

I am truly blessed to know these people and I can clearly state that there is a lot of unrighteous slander against them. Their doctrine of judgment sounds very wrong to many people, but it is really a response to God's call to love. They truly love from the heart, and take judgment seriously, and thus come across in a negative way. When you come to know them well, they are very tender-hearted, genuine and direct in their interactions. They believe in eternal security in the Person of Lord Jesus Christ, but disagree with the way most professing believers slant it in a way that supports their carnal, disobedient lifestyle. They believe that the believer's perseverance is the work of Christ unto salvation, and without ongoing repentance and Holy Spirit submission, a person is damned to hell. I like the way Sean Morris explains salvation in that a true Christian can say, "I was saved," "I am being saved" and "I will be saved". True salvation includes Christ's work of obedience, Holy Spirit submission, working out salvation, fearing God, and walking in the narrow way, these are all good works established and enabled by God Himself (Eph 2:10).

After knowing the inner working details of the church, I can confidently say that there is no evil being practiced or supported in this church. The elders support good familial relationships as long as they do not affect one's relationship with God. I have personally spoken to Catherine Grove on two occasions, without anyone supervising our conversation. The elders are encouraging her to re-establish her communication with her parents, and she is moving closer in that direction. Catherine is growing spiritually and is gradually becoming stronger. Sean told me that they are praying for Catherine to be united with her family. Many of the members are committed to re-establish their connections with their families, with Christ as the center of these interactions. Family members sometimes do not like that, because they simply want to re-establish familial ties in the same worldly way, as they are used to, so this leads to some conflict for some families. The press reports that may have seen recently are biased, one-sided, and half-truths. When the ABC news crew were stalking them, the church decided after much prayer, to not respond to their questions since they would misrepresent them by using only portions of conversations without bringing the context. Much of the slander has been propagated by a few parents who were distraught by the present lives of their children, and have labeled them as a cult. This is far from true, and we need to stand up with our brothers and sisters who are being persecuted for Christ's sake. Otherwise, we will be shedding the blood of the saints, and grieving Christ. Since you are one of the persons whom they highly respect, and were blessed by your teaching, I hope that God will use you to bring blessing to them and their families. If you find any of their doctrine in error, please use the Scripture to point it to them, they are open to any correction by saints in good standing, who can prove things from God's Word.

Praying for unity of all saints, by our love they will know we are Christians!

Love in Christ,

Moses and Mercy David

Dear Brother Marc, please pass it on to Brother Paul......thank you!
Re: What other spiritual leaders/pastors have to say
THIS DESCRIBES WHAT IS HAPPENING IN WELLS:
3 John 1:9-10
"I have written something to the church, but Diotrephes (Sean Morris), who likes to put himself first, does not acknowledge our authority. So if I come, I will bring up what he is doing, talking wicked nonsense against us. And not content with that, he refuses to welcome the brothers, and also stops those who want to and puts them out of the church."

THIS DESCRIBES HOW WE SHOULD VIEW THEM BASED ON THEIR ACTIONS:
2 Corinthians 10:12
"Not that we dare to classify or compare ourselves with some of those who are commending themselves. But when they measure themselves by one another and compare themselves with one another, they are without understanding."

THIS DESCRIBES HOW WE SHOULD PERSONALLY APPROACH THE SITUATION:
1 Timothy 5:22
"Do not be hasty in the laying on of hands, nor take part in the sins of others; keep yourself pure."

-- Richard      Source: Liberty For Captives, libertyforcaptives.com
Re: What other spiritual leaders/pastors have to say
A good resource and interesting reading.

Discerning The Church of Wells
PUBLIC STATEMENTS CONCERNING THE CHURCH OF WELLS
About Us 
Public Statements

Public Denouncements of The Church of Wells

The Church of Wells, in attempt to attain some credibility, have falsely associated themselves with historic & contemporary reformed preachers and their theology. In response to their theology and practices which are contradictory to the men of faith (Spurgeon, Baxter, Edwards, Ravenhill, Barnard etc.) the following Christian voices have provided public statements.

"Where there is no guidance, a people falls, but in an abundance of counselors there is safety." Proverbs 11:14

Read the full post here -  www.thechurchofwells.org/statements-concerning-church-wells/
Re: What other spiritual leaders/pastors have to say


Thursday, April 10, 2014

Will the Elders of the Church of Wells Answer?
Excerpt

For some time, now, I have had growing concerns about a group called the Church of Wells, which is led by three, young open-air preachers. More recently, I have begun to publicly express my concerns. 

There are others who share my concerns: individuals (both Christian and non-Christian), families of Church of Wells members, para-church ministries, and many Christians who are part of the open-air preaching subculture around the world. Two strong and respected apologetic ministries,Christian Apologetic & Research Ministry and Striving for Eternity Ministries, have begun independent investigations into the Church of Wells. I have joined them in their effort. Together we are quickly amassing a large amount of data; the more we dig, the more troubled we are all becoming.

I realize, as do my Christian brothers from the other ministries, that what is being shared through secular news sources must be looked at with a somewhat wary eye. Without questioning the integrity of these secular news sources or individual reporters, or the veracity of the information they are disseminating, these secular sources cannot help but to apply a secular worldview to their journalism. And one's presuppositions, one's particular worldview, will effect one's interpretation of evidence.

I also realize that the passion and intensity fueling my own rhetoric, at times, may have been less than helpful in creating or maintaining lines of communication. I take responsibility for that, and apologize to anyone who may have been troubled or offended as a result.

So, in an effort to draw accurate conclusions about the specific doctrinal beliefs of the Church of Wells, we are going to produce a series a very short videos. In each video, we will publicly ask one specific and concise question of the church elders. In return, we will ask the church elders to answer each question in either a video on the church's (or designated church member's) YouTube channel, or a written response posted on the Church of Wells website, or both. This way the elders can dictate how their answers are disseminated to the public, and so that no accusation of spin or tampering with content can be levied by either side of the discussion. 

In an effort to show there is no attempted gamesmanship on our part, we want to share the questions we will ask with the church elders, as well as all those who are watching events unfold in Wells, TX, before the videos are made. 

We believe the principles, goals, and motivations that govern not only what we are trying to do, but also why we believe it is reasonable to expect answers from the church elders, are biblical. Some of the verses to which we have gleaned wisdom for this approach are: 
    "Come now, and let us reason together, saith the Lord: though your sins be as scarlet, they shall be as white as snow; though they be red like crimson, they shall be as wool" (Isaiah 1:18).
    "Judge not according to the appearance, but judge righteous judgment" (John 7:24).
    "Let your speech be alway with grace, seasoned with salt, that ye may know how ye ought to answer every man" (Colossians 4:6).
    "But sanctify the Lord God in your hearts: and be ready always to give an answer to every man that asketh you a reason of the hope that is in you with meekness and fear" (1 Peter 3:15).

With the above in mind, hoping the elders of the Church of Wells will receive these questions in the spirit in which they are asked, we ask the church elders to answer the following questions:   [POSTED HERE]

We pray the elders of the Church of Wells will answer these questions, not only for the benefit of three ministries represented in this article, but also for the benefit of all those, both inside and outside the Body of Christ, who truly want to know what the Church of Wells believes, teaches, and practices.

http://www.crossencounters.us/2014/04/will-elders-of-church-of-wells-answer.html

©2012-2018 all rights reserved.

This is a conversation, an open dialogue, in the tradition of Free Speech. The purpose is to promote independent investigation, public debate and dialogue on cult and mind control issues critical to our social and individual well-being. Statements made reflect the writer's opinion. This forum acts to provide a space for electronic medium of information transfer, with the explicit understanding that each user will independently evaluate it and carefully make up his or her own mind as to its factual accuracy and usefulness. Independent individuals, organizations, authors, researchers, academicians and contributors may be exercising constitutional rights of petition, free speech, participation in government, or freedom of religion in researching, evaluating and freely discussing any matter. These discussions or statements may be constitutionally-protected opinions, speculation, allegations, satire, fiction, or religious beliefs or religious opinions of independent individuals, organizations or authors and as such, may or may not be factual.